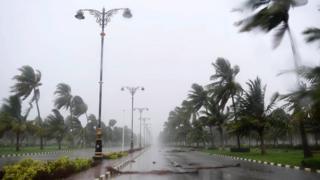 Cyclone Mekunu has hit southern Oman with high winds and rain, killing a 12-year-old girl and leaving three other people injured, officials say.
The girl died after wind swept her against a wall, police say.
State TV showed large areas of flooding in Dhofar and al-Wusta provinces, with dozens of vehicles submerged.
The cyclone intensified in strength on Friday but has now been downgraded and officials said it would weaken further into a tropical storm.
Cyclone Mekunu's landfall to the west of Salalah, Oman's second city, came a day after it lashed the Yemeni island of Socotra, where at least seven people were reported to have been killed.
Thousands of residents near coastal areas in Dhofar and al-Wusta had been moved to shelters as 170km/h (105mph) winds and torrential rain hammered the region, officials said.
About 10,000 people had been evacuated from schools and government buildings, mainly in Salalah, civil defence authorities said.
Authorities have told residents to stay inside and Salalah's airport has been closed until midnight on Saturday local time (20:00 GMT).
Yemen's government has declared the island of Socotra a disaster zone.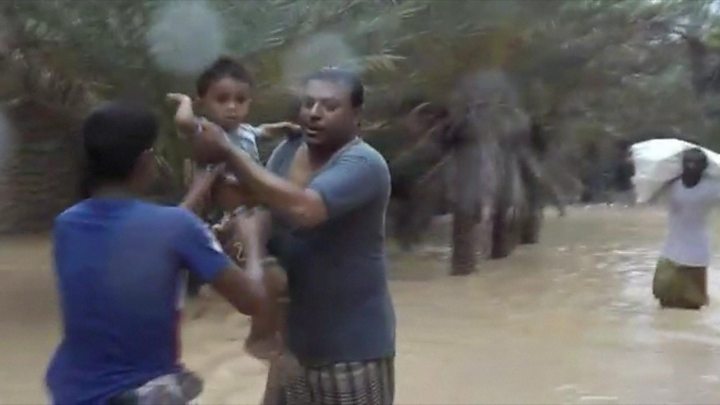 Fisheries minister Fahad Kafin told AFP news agency the bodies of five Yemenis and two Indians had been recovered. Twelve Indians were still missing, he said.
Saudi troops were deployed to Socotra last month. A Saudi-led coalition is supporting Yemen's government in the country's three-year civil war.