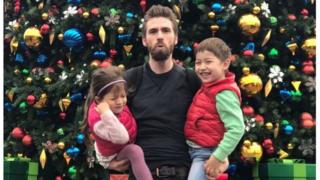 In a rural town in China, two young children are living, completely unaware that their British father is dead after being murdered by their Chinese mother.
Seven-year-old Jack and his six-year-old sister Alice are also unaware they are now at the centre of an increasingly bitter custody battle between their British and Chinese grandparents.
Now sharing a bedroom with their cousin, they were taken to live in Nanzhang after their mother Weiwei Fu was jailed for life earlier this month.
The children's father, Michael Simpson, was 34 when he was stabbed to death by his estranged wife at his apartment in Shanghai in November.
The couple had met and married after he moved to China to work in the supply business of the British retailer Next.
They had been living separately for a year and Michael's family say the children spent most of their time with their father.
Now his parents, Ian and Linda, want the children to live with them in the UK, where they say they will have a better life and education.
They have promised to maintain contact with the Chinese family, keep teaching the children Mandarin and visit annually.
"Losing Michael put a hole in our family," Mr Simpson says.
"If you take away the children as well you've basically blotted out the whole of that family."
Having sat through the trial and sentencing, the couple had hoped to reach a deal with the Chinese family.
They were prepared to forgo their claim for compensation, offer some money instead to the relatives who are looking after the children and, crucially, offer official "forgiveness".
The latter could have seen Weiwei Fu's sentence cut in half, all in exchange for custody of Jack and Alice. But no deal was done.
The Fu family "won't let us see them… and won't negotiate with us at all", Mr Simpson says.
The Simpsons blame Weiwei's brother and have accused him of extortion.
They say he met with their lawyer just before the sentencing and repeated a demand for a payment of just over £60,000 in exchange for the children.
"I couldn't believe they would let their daughter go to jail for so long, just for the sake of that," Mr Simpson says.
The Chinese family denies it is using the children to extort money from their other grandparents.
UK intervention?
The Foreign Office has been assisting the Simpsons as they pursue a custody case in the Chinese courts, but members of the family have said in the past they've felt "let down" by British officials.
They now think political intervention is needed and, as Jeremy Hunt prepares to visit China this weekend, they want the new foreign secretary to intervene in the case and appeal to Chinese officials for help.
The Simpson family say they are "fairly impressed" with the Chinese judiciary system, although they have concerns as the custody hearing will be in a local court near where the children are currently living.
They fear they may not be treated fairly saying some courts "seem a bit timid" about hearing cases involving foreigners.
The Foreign Office has promised to write to the court and send a representative to the hearing, which is due soon. But the family want more direct intervention.
"We do want political support," Mr Simpson says.
The BBC understands the case was mentioned in meetings by the UK's national security adviser, Sir Mark Sedwill, when he was in China ahead of the prime minister's trip earlier this year.
When asked if he had forgiven his daughter-in-law for murdering his son, Ian Simpson said: "I have no hatred towards her. To be honest I probably have more hatred towards the family.
"She's a bit like nothing to me," he added.
"I don't have any real feelings towards her. Do I forgive her? No."