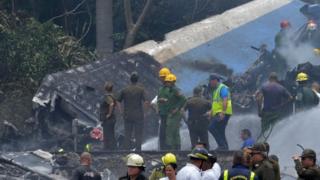 Mexico's civil air authority has suspended a Mexican company's operations following a plane crash in which 110 people died.
Officials said in a statement on Monday that Aerolíneas Damojh is under "extraordinary verification".
The charter company owned the aircraft that crashed on Friday. It had leased it to Cuban state airlines Cubana de Aviación.
Previous complaints have arisen about the company's safety record.
Last Friday's crash near Havana airport killed 110 people on board. It was Cuba's deadliest air disaster in 30 years.
The plane was reportedly built in 1979.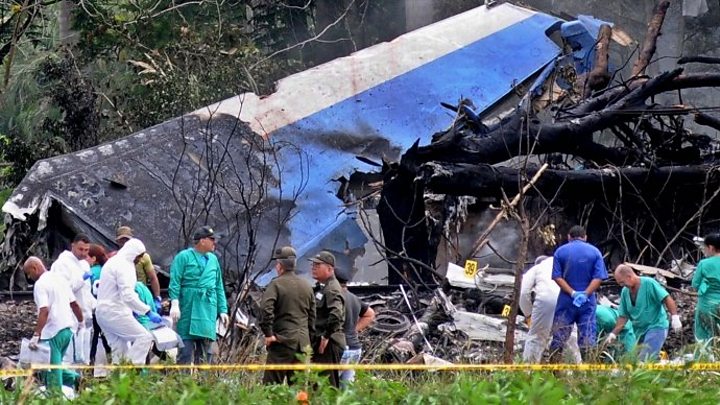 The General Directorate of Civil Aviation (DGAC) statement, in Spanish, says the authority will seek information to help the crash investigation, and about whether the Mexican company continues to follow regulations.
It says Aerolíneas Damojh was subject to previous investigations: in 2010, due to a crash in Puerto Vallarta, and in 2013 following a complaint from an airline pilot.
The authority has run "annual checks" on Aerolíneas Damojh, the statement reads, with the most recent in November 2017. All aircraft have to renew their airworthiness certificates every two years.
The head of Guyana's civil aviation body, Cpt Egbert Field, told the Associated Press news agency that the plane that crashed had been barred from using Guyanese airspace last year after authorities found its crew were overloading luggage on flights in Cuba.
In one instance, the news agency reports, Guyanese authorities had discovered suitcases stored in the plane's toilets.
The plane crashed after taking off from Havana airport. It was a scheduled internal flight to the Cuban town of Holguin.
All six crew members were Mexican, while the majority of passengers were Cuban.
An Argentine couple and two passengers from the dispute territory of Western Sahara were also killed, as was a Mexico tourist.
Three women survived the crash, according to the Cuban Communist Party newspaper Granma.