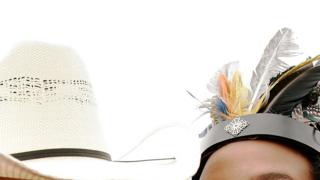 A cowboys and Indians-themed children's party held in the Netherlands last year was not offensive, Dutch officials have said, rejecting a complaint.
The Public Prosecution Service said the event at the TivoliVredenburg music complex in Utrecht in June could not be seen as racist stereotyping.
Action group De Grauwe Eeuw had argued that the party created the association that "genocide is something fun".
The group said it would appeal against the ruling.
"Dressing up is a game", the PPS said on Friday, adding that the themed party did not provoke "violence against any group".
In February, the TivoliVredenburg decided not to hold a similar party this year.
Complex director Frans Vreeke admitted that it had not been wise to choose the theme last year, Dutch broadcaster NOS reported.
You may also be interested in: