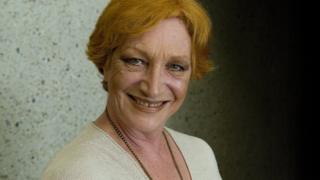 Australian actress Cornelia Frances has died following a battle with cancer, local media have reported.
Liverpool-born Frances, 77, was best-known for her role as Morag Bellingham on the long-running soap Home and Away.
The veteran actress had several other iconic roles on Australia's small screen, including as host of the local version of game show The Weakest Link.
She had endured a series of health struggles in recent times after being diagnosed with bladder cancer in 2017.
Her death was announced on Home and Away's local broadcaster, Seven Network, on Tuesday.
Her co-stars and other Australian celebrities have been paying tribute on social media.
Spirited characters
Frances studied acting in London but she gained fame after moving to Australia in 1970.
In a career spanning decades, she starred in popular local soaps and dramas including The Young Doctors, Prisoner, and Sons and Daughters.
On Home and Away, she played Morag – the famously scheming sister of Ray Meagher's Alf Stewart – in various stints from 1988 until last year.
"I've always played the strong ladies," she told the local Nine Network earlier this year.
"I'm going to fight it [the cancer], by God I am. [Acting] has been a wonderful road and I've loved every minute of it. I've loved every soapie I've been on."
'Dignity and presence'
In an interview in January, Frances revealed that she had also suffered a recent hip bone fracture and an ulcer in her throat.
"I swear I have had a hex placed on me for the past 12 months," she told Sydney's Sunday Telegraph.
The Seven Network described Frances as a unique actress.
"Her on screen presence inspired a generation of actors. This gift was coupled with an ability to bring a sense of dignity and presence into each room she entered," it said in a statement.
Meagher said: "Cornie was an incredibly loved and valued member of our cast over many, many years. We had a moment of silence for her on set this morning and she'll be sadly missed by both cast and crew."
Australian media reported that she is survived by her son, Lawrence.