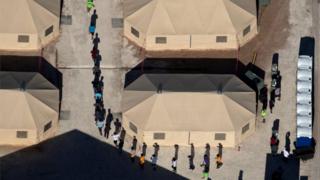 The fate of hundreds of undocumented children taken from parents remains unclear a day after President Donald Trump moved to roll back his policy.
He ordered on Wednesday that the children be held with their parents, who are jailed on criminal charges of crossing the border illegally.
But under US law, migrant children cannot be detained more than 20 days by immigration officials.
US officials have expressed mixed messages about what happens next.
At least 2,300 children have been separated from their mothers and fathers after crossing the border illegally since 5 May.
While the adults are held in custody pending court appearances, the children are being sent to holding cells, converted warehouses and desert tents.
What does Trump's executive order change?
The president's executive order calls for:
Immigrant families to be detained together while their legal cases are considered
Expediting immigration cases involving families
Requesting the modification of a court ruling that dictates how long immigrant children can be detained
Agencies, including the Pentagon, to construct facilities or make existing facilities available "for the housing and care of alien families"
But it is not clear where exactly the families are to be detained and what might happen to them while new facilities are set up.
When will new policy take effect?
There is also confusion over how long it will take for the policy to be rolled out.
The New York Times reported that Gene Hamilton, a counsellor to Attorney General Jeff Sessions, mentioned an "implementation phase".
Mr Hamilton did not offer any other details about what border protection would do next.
If the administration wants to detain migrant families together indefinitely while their cases churn through the legal system, it needs Congress or the courts to change the existing rules.
Under a 1997 ruling, undocumented children can be detained for no longer than 20 days by US immigration officials.
What will happen to the children?
An official for a division of the US Department of Health said there would be no special effort made to reunite families already separated due to the "zero tolerance" policy.
Ken Wolfe was speaking for the Administration of Children and Families (ACF), which oversees where children are placed after they are separated from their parents.
He was later contradicted by Brian Marriott, senior communications director of the ACF, who said Mr Wolfe "misspoke".
"It is still very early and we are awaiting further guidance on the matter," Mr Marriott said in a statement. "Reunification is always the ultimate goal."
US Customs and Border Protection (CBP) said it has "taken immediate steps to implement the President's executive order" in an online statement on Thursday.
"For those children still in Border Patrol custody, we are reuniting them with parents or legal guardians returned to Border Patrol custody following prosecution."
For now, families are reportedly being given this flyer from border protection officials.
The recommended steps for parents are distilled into three actions: call ICE, call the US Office of Refugee Resettlement, and send either agency an email inquiry.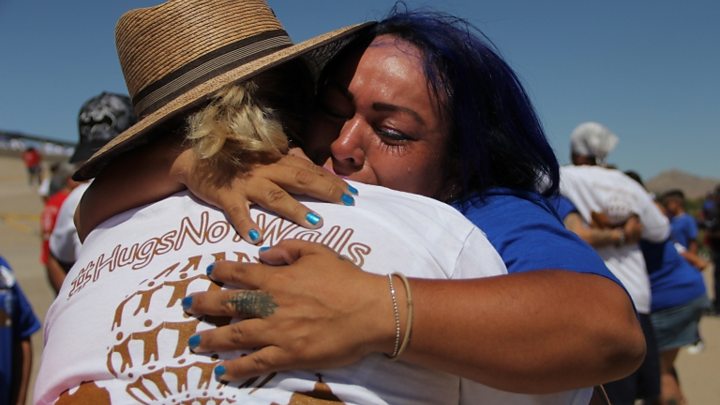 'I never heard from my son'
Beata Mejia Mejia is one of thousands of parents who have been separated from their children after illegally crossing into the US under the "zero tolerance" policy.
The Guatemalan sued the US government on Tuesday for allegedly violating her human rights when they forcibly took away her son, Darwin.
Ms Mejia Mejia crossed into the US near the city of San Luis, Arizona, on around 19 May, according to the lawsuit.
"I carried him on Saturday and he was there on Sunday, part of Monday. But that's when they took him," she says.
According to Ms Mejia Mejia, no official told her where they took Darwin.
After 11 days in initial detention, Ms Mejia Mejia was moved to the Eloy detention centre in Arizona, where, according to the lawsuit, she insisted on asking for information about her son.
"They gave me a phone number but my calls were never answered. I rang and rang and they never answered, I never heard from my son."
She was freed on bail paid for by her lawyers on 15 June after her asylum claim was deemed credible by an immigration official.
It was only after that interview that she was allowed to speak to Darwin over the phone for the first time.
"I sensed he was very sad," she says. "Like all mothers, I know my children, and I felt he's not well."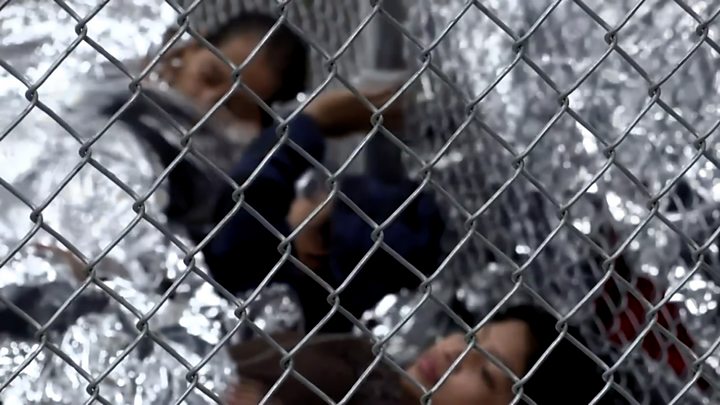 Abuse allegations surface
In recent days, abuse claims have surfaced about how migrant children have been detained at two centres.
Juveniles held in a detention centre in Virginia say they were handcuffed, beaten, left nude in concrete cells and locked in solitary confinement, the Associated Press reported.
Some have said guards strapped them to chairs with bags over their heads.
Lawyers for the Shenandoah Valley Juvenile Center have denied the allegations.
The children were placed at the Virginia facility after they were stopped while crossing the border alone and accused of belonging to gangs like MS-13.
In Houston, migrant children say they were forcibly administered drugs at the Shiloh Treatment Center.
That lawsuit was filed in April but made public on Wednesday.
Children were allegedly given psychiatric drugs while being told the pills were vitamins.
According to the lawsuit, one child was given two antipsychotics, an antidepressant and an antihypertensive – a combination that has been linked to cardiovascular problems.
What will happen to new arrivals?
CBP said that "family unity will be maintained for families apprehended crossing the border illegally, and they will be transferred together to US Immigration and Customs Enforcement".
But Mr Trump has made clear all adults who enter the US illegally will still be prosecuted.
With his new executive order, families with children will go through the detention process together – for a time.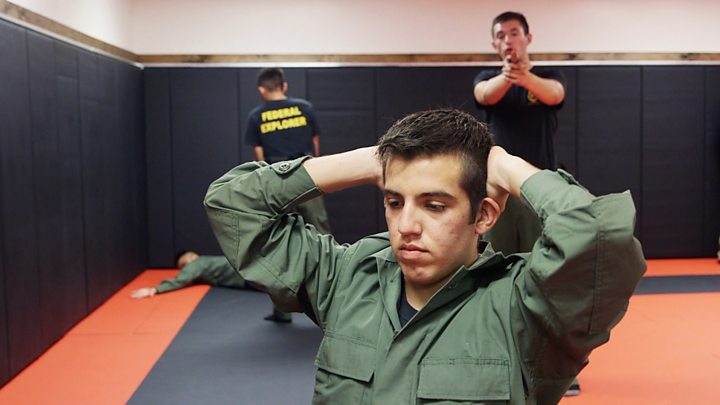 If the status quo remains, then the Trump administration will see legal challenges from immigration advocates after families are held together after 20 days.
The executive order mandates Mr Sessions to rework this existing court ruling, but it seems unlikely the courts will overturn the limit on detaining minors within the next 20 days.
There is only a current capacity of 3,335 beds in family detention centres run by US Immigration and Customs Enforcement, according to the federal budget figures.
Yet 420 parents and children are crossing the US-Mexico border every day, according to CBP data cited by NBC News.
That would mean the existing family detention centres would be full within eight days, according to the network.