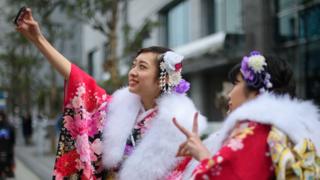 Adulthood is about to come a lot earlier in life for many in Japan.
The government has enacted a bill lowering the age of adulthood from 20 to 18, which will affect millions across the country when it takes effect in 2022.
It's the first time the age of adulthood has been changed since it was set in 1876.
What will 18-year-olds be allowed to do?
The biggest change is they will be able to get married without parental consent.
Currently, males over the age of 18 and females 16 and over can marry – but only with the say-so of their parents. Otherwise you need to be 20.
But the revised Civil Code raises the age at which women can get married and means all 18-year-olds will be able to wed without parental consent.
They'll also be able to apply for credit cards and make loans without parental approval and, if they want, they can obtain a passport valid for 10 years.
Currently, minors are only allowed passports valid for five years, and need a parent or guardian's signature.
As part of the lowering of the adulthood age, revisions have been made to more than 20 laws, including those on nationality and certain professional qualifications such as being a chartered accountant.
Those who have been diagnosed with Gender Identity Disorder will be able to apply to have their gender legally changed at the age of 18.
What won't they be allowed to do?
Though they are technically adults, 18-year-olds in Japan will remain banned from drinking alcohol, smoking, gambling and adopting children.
They'll still have to wait until they turn 20 for that.
How are people reacting to this?
Many on social media aren't very excited about the new bill.
"So I'll be 18 years old and an adult but I won't be able to drink alcohol or gamble?" asked one user on Twitter. "That doesn't make sense."
"I can take a loan when I'm 18, but drinking will still be prohibited," another user pointed out.
Some also pointed out that there might be confusion around the Coming of Age ceremony – a Japanese holiday that is held in January every year for those aged 20 to officially welcome them into adulthood.
"So what happens to our Coming of Age ceremony? Do we still celebrate it when we're 20?" said one Twitter user.
"January is university entrance exam season for 18-year-olds. So we can't have our Coming of Age ceremony then… so when is it going to be?" one Japanese user asked.
Why the change?
There have been arguments around the legal age of adulthood in Japan for decades, and the Legislative Council of the Ministry of Justice had in 2009 released a report recommending the age of adulthood be lowered to 18.
Members of the governing Liberal Democratic Party say lowering the legal age of adulthood will help revitalise an ageing society with a falling birthrate.
In 2015, the government lowered the voting age from 20 to 18.
So are 18-year-olds in Japan now considered adults?
The law is only set to take effect in April 2022, so unfortunately, those that are currently 18 will still have to wait until 20 before they are legally considered adults.
This means that today's 14-year-olds will be among the first batch of teenagers to fall under the new law – only four years to go.
Additional reporting by the BBC's Sakiko Shiraishi