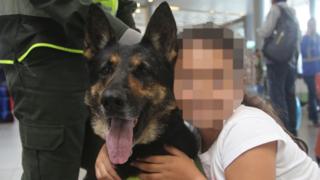 A dog in Colombia which has sniffed out a record amount of drugs in her career with the counter-narcotics police force has been moved to ensure her safety.
Intelligence sources said the Urabeños drugs gang had put a 200m-peso ($70,000; £53,000) price on the German shepherd's head after she found almost 10 tonnes of the gang's cocaine.
The Urabeños is considered Colombia's most powerful criminal organisation.
Sombra (Shadow) was moved from the gang's heartland to Bogotá airport.
Drug traffickers' scourge
Six-year-old Sombra had been deployed in ports on the Atlantic coast including Turbo, a town from which tonnes of cocaine are shipped by speedboat and sometimes by submarine to Central American and on to the United States.
Sombra sniffed out 5.3 tonnes of cocaine in Turbo and recently found another four tonnes stashed in car parts meant for export.
Much of the drug trafficking is controlled by the Urabeños, a gang which is also known as the Úsuga clan or Gulf clan.
The gang's boss, Dairo Antonio Úsuga also known as Otoniel, is one of Colombia's most wanted men.
It is not unusual for the Urabeños to offer money to get rid of those standing in their way.
In 2012, police found leaflets signed by the gang offering $500 (£380) to anyone who killed a police officer.
The vastly bigger sum the Urabeños are offering for the killing of Shadow is indicative of the financial losses her sensitive nose has caused them.
Counter-narcotics police officers said Shadow was being well guarded by her handler and other officers, but that for the time being she would be safer on duty at El Dorado airport in the capital.
Sombra has been with the counter-narcotics police force since she was a puppy and is credited with sniffing out drugs leading to the arrest of 245 suspects.