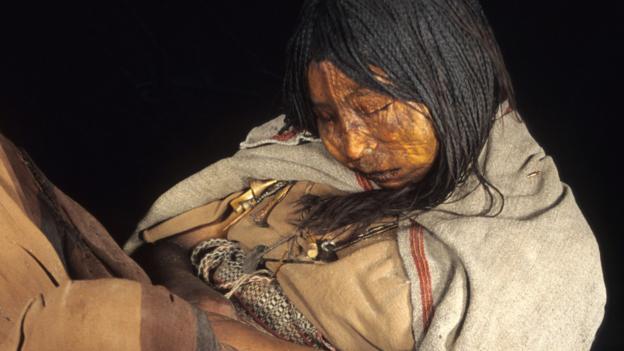 BBC coverage
World Cup Group C:

Peru v Denmark, Saturday, 16 June (17:00 BST)

How to follow:

Watch live on BBC One at 16:30 BST; listen on BBC Radio 5 live; text commentary on the BBC Sport website
Back in 1999, on the mountainous border between Chile and Argentina, the frozen bodies of three Inca children were discovered on top of a volcano.
Perfectly preserved amid freezing conditions 6,000 metres in the sky, they had lain undisturbed since they were sacrificed around five centuries earlier.
Nearly two decades have passed, but the discovery is still teaching us about the world they left behind.
And over the past year, these three mummies played an unlikely role in getting Peru's record goalscorer and captain to the World Cup in Russia despite his doping ban.
This is the story of how that came to be.
Guerrero's bittersweet qualifying campaign
Paolo Guerrero insists he did not take cocaine.
He has always maintained his positive test in October 2017 came after drinking a contaminated herbal tea.
In Peru coca leaves are often consumed socially. Most often now they are infused in water – a more convenient take on the 8,000-old tradition of cramming a wad of leaves in your mouth and chewing for hours on end.
In much of South America, the consumption of coca leaf in its raw form is completely legal, it's even said to help combat altitude sickness. A mild stimulant, its effects have been compared to a cup of strong coffee or tea.
It is a world away from the infamous white powder that is the product of a chemical process.
Despite that, one cup might be enough for you to fail a drugs test.
It happened to Guerrero after two crucial World Cup qualification matches in October last year – a 0-0 draw in Argentina and a 1-1 draw with Colombia. Those results left Peru with a big chance of reaching their first finals since 1982.
All they had to do was beat New Zealand in a two-legged tie, but they were about to lose their key player.
Guerrero told Fifa he had been given two herbal teas to drink while on international duty because he was suffering from flu. He explained he was given an anise tea, and a black tea with lemon and honey – maybe there had been a mix-up and he was given coca instead?
But his explanation fell on deaf ears. He had tested positive for the cocaine metabolite benzoylecgonine and was banned for 12 months.
The inter-continental play-off went ahead without him, Guerrero reduced to watching on as his team-mates first drew the away leg 0-0, then joining a whole nation in wild celebration after the return fixture ended in a 2-0 win.
But it was bittersweet. He could still appeal, but it looked like Guerrero would miss the World Cup.
So where do the mummies come in?
As part of Guerrero's appeal at a Fifa hearing in December, his lawyers turned to a leading Brazilian biochemist, LC Cameron from the Federal University of the State of Rio de Janeiro.
He testified that the concentration of benzoylecgonine in Guerrero's urine was consistent with somebody who had drunk coca leaf tea, rather than somebody who had taken cocaine. And he also brought in another key contributor, Charles Stanish, an American archaeologist from the Institute for Advanced Studies, University of South Florida.
Stanish, an expert in Inca culture, told the hearing about the coca leaf's special place and popularity in Peru; how it would be quite possible for one herbal infusion to become contaminated by another; how it would be impossible really to notice the difference in flavour if that had indeed happened.
But the best was yet to come.
He offered the ultimate proof that a failed test like Guerrero's really could have been caused by coca leaf tea rather than cocaine.
And he did it using the frozen Inca children found at the top of Volcan Llullaillaco 18 years earlier.
In 2013, forensic analysis of the mummies' hair showed up a positive test for benzoylecgonine – the substance found in Guerrero's urine.
The message was simple: How could cocaine account for that, given that their bodies were left on the volcano approximately four centuries before the substance was first produced by German chemist Albert Niemann in 1859?
It may not have been the decisive moment that swung the case in Guerrero's favour – but the player's lawyers say it certainly helped.
Either way, the ban was reduced – down from the one year minimum to half that. He would make the World Cup. It was victory.
Except it wasn't.
In April, with Guerrero preparing to return from a six-month ban backdated to November, the World Anti-Doping Agency (Wada) appealed to the Court of Arbitration for Sport (Cas).
Wada insisted that, despite what Fifa ruled, Guerrero must serve the punishment its code specifies for any failed test for benzoylecgonine – a one to two-year suspension.
Guerrero's lawyers filed a counter appeal, arguing that the ban should be abolished altogether.
But in May, with the World Cup one month away, Cas ruled in Wada's favour – Guerrero's ban was now up to 14 months.
That was the cue for three World Cup captains – Hugo Lloris of France, Australia's Mile Jedinak and Denmark's Simon Kjaer – to write an open letter calling on Fifa to temporarily lift the suspension and allow the Flamengo forward to play in Russia.
But regardless of whether it wanted to let Guerrero play or not, Fifa no longer had the ultimate say.
However, there was still one final twist to come.
Amid a growing protest movement that saw thousands gather in Peru's national stadium in Lima, Guerrero continued to argue his innocence, this time at the Swiss Federal Tribunal. The mummies had their third day in court.
On 31 May, two weeks before the World Cup's opening night, the Swiss Federal Tribunal agreed to temporarily lift the 14-month suspension for the duration of the tournament while it considers Guerrero's case in full.
Cas released a statement saying they would not oppose the move. He was cleared to play.
So, when Peru line up to play Denmark at 17:00 BST in Saransk on Saturday, their talisman striker Guerrero, whose surname means 'warrior' in Spanish, will be the man who leads them out after all.
It has been quite the battle to get there.