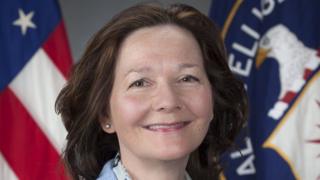 When Gina Haspel was nominated as the next head of the CIA in March, it re-opened debate on a murky period of recent US history – the use of secretive overseas prisons to torture terror suspects. As the BBC's South East Asia correspondent Jonathan Head reports, the spotlight has fallen on Thailand, and one such "black site" which Haspel once ran.
In early April 2002, a plane took off from an undisclosed air base in Pakistan, en route to Thailand. On board was a special passenger.
Abu Zubaydah, a 31-year-old Saudi-born Palestinian, believed to be one of Osama Bin Laden's top lieutenants, had been captured a few days earlier in a joint US-Pakistani raid on Al Qaeda safe houses in Faisalabad.
He was now in the hands of CIA agents, who had decided to make him the first "high-value detainee" to be subjected to what they called "enhanced interrogation techniques" – something human rights groups say amounts to torture.
But they needed somewhere to do it. In December 2014 the US Senate Select Committee on Intelligence (SSCI) published an executive summary of a confidential 6,000 page report on these techniques.
The place where Abu Zubaydah and at least two other high-value detainees were interrogates is referred to only as Detention Site Green.
Thailand is not named as the host country. US and Thai officials have consistently denied the existence of such a facility, although the Thai denials have at times been less than wholehearted.
But a senior former Thai national security official has confirmed to the BBC that Detention Site Green was located inside the Royal Thai Air Force base in Udon Thani in the north-east. It was not large – just a CIA safe house on the base, he said.
The Americans could operate there so long as the Thai government was kept informed.
"Whenever someone was captured by the Americans, either in other countries or inside Thailand, they were brought through the site, and later sent off again in an American plane," the official recalls.
Why Thailand?
The SSCI's report runs through the CIA's reasons for choosing Thailand:
US military custody was rejected because they would have to inform the International Committee for the Red Cross.
The large detention facility at Guantanamo Bay in Cuba was also unsuitable, as they believed secrecy would be difficult to maintain there, and either the FBI or US military might try to take charge of the interrogation.
President Bush approved the transfer of Abu Zubaydah to Detention Site Green on 29 March 2002. The Thai government was informed, and gave its consent, on the same day.
The choice of Thailand, and Udon Thani, would have made sense for a number of reasons:
The two countries were treaty allies.
Close US-Thai cooperation in military and intelligence affairs went back to the early days of the Cold War.
In the 1960s Thailand allowed the US to use air bases on its territory to bomb communist targets in Vietnam, Laos and Cambodia.
Udon Thani was one of the main US bases, and was heavily used by the CIA at the time, which had its own fleet of aircraft.
By the time the CIA was considering bringing Al Qaeda suspects to Thailand in 2002, the country had a new prime minister, Thaksin Shinawatra, a confident but abrasive leader who wanted to move his country in a different direction.
He was publicly much cooler towards the Americans than his predecessors, partly driven by the resentment felt by many Thai businesses towards the US for its perceived failure to support them during the 1997 financial crisis.
Mr Thaksin also sought closer ties with China. He insisted that Thailand should remain neutral in President George Bush's war on terror, and was adamant that Thailand did not have a terrorist problem. Later he would chide the US for criticising his human rights record, complaining that he was not Washington's "lackey".
But behind Mr Thaksin's defiant public face, relations between the two countries, and in particular their military, intelligence and law-enforcement agencies, remained close.
Thai co-operation or resistance?
Several months before the 9-11 attacks in New York, the CIA had formed a secret new organisation known as the Counter-Terrorism Intelligence Center, bringing together personnel from three Thai agencies with their US counterparts to track down Islamic militants in South East Asia.
Despite this, when the CIA first requested the use of Detention Site Green to interrogate suspects, it clearly had some difficulties with the Thais.
The SSCI report mentions a request made to the CIA for some kind of "support" from the officials responsible for the site. This "support" was apparently given, but then the Thai officials were replaced by less compliant colleagues, nearly forcing the CIA to close down the facility.
The CIA country chief was, says the report, able to negotiate keeping it open.
The report also refers to at least eight Thai officials, presumably senior, who knew of the secret site, and the agency assumed that many more people probably also knew of it.
With major newspapers beginning to pick up bits of information about the detainment site, the CIA believed increased publicity, and the embarrassment this would cause the Thais, would eventually force it to close.
This is in fact what happened in December 2002, two months after Gina Haspel is believed to have taken charge of it.
No results from torture
During his capture in Pakistan, Abu Zubaydah had been badly injured, and went straight to hospital after his arrival in Thailand. But by 15 April he was transferred to Detention Site Green.
His cell was described in a CIA cable as "white with no natural lighting or windows, but with four halogen lights pointed into the cell…" Security officers wore all black uniforms, including boots, gloves, balaclavas, and goggles to keep Abu Zubaydah from identifying the officers, as well as to prevent Abu Zubaydah "from seeing the security guards as individuals who he may attempt to establish a relationship or dialogue with".
The security officers communicated by hand signals when they were with Abu Zubaydah and used handcuffs and leg shackles to maintain control. In addition, either loud rock music was played or noise generators were used to enhance Abu Zubaydah's "sense of hopelessness". According to the report:
He was first kept in isolation for 47 days, during which time he was also questioned by the FBI.
From 4 August, for at least 20 days, he was subjected to harsher treatment by CIA agents; confinement for more than 200 hours in a narrow, coffin-like box, and nearly 30 hours in a smaller box only 50cm wide.
He was also slammed against the wall, and "waterboarded" 83 times – strapped naked to a bench, his face covered with a cloth, which was then saturated with water, causing him to choke and vomit.
Haspel's unclear role
By the time Gina Haspel took over Detention Site Green, the intensive interrogation of Abu Zubydah was over. Two other Al Qaeda suspects, Ramzi Bin al-Shibh and Abd al Rahim al Nashiri, were also detained with him, and Nashiri is also known to have been waterboarded.
The controversial methods used on Abu Zubaydah did not produce any useful information. By all accounts he had been co-operative during the softer FBI questioning.
What Gina Haspel's exact role was is still unclear.
The BBC contacted the CIA for clarification of her role in Thailand. The CIA stated that it was unable to comment on our questions, but directed us to a correction made in another article about Gina Haspel, in which it was stated that she took on her supervisory role in Thailand after the waterboarding of Abu Zubaydah had finished.
Senator Dianne Feinstein, the former chair of the Senate Intelligence Committee, has demanded that Gina Haspel's part in running Detention Site Green, and in a CIA order in 2005 to destroy 92 videotapes of the interrogations conducted there, must be made public so that the Senate can make an informed judgement about her suitability to head the agency.
When Detention Site Green was closed in December 2002, Abu Zubaydah was flown to another CIA secret detention site in Poland.
Eventually he was taken, via several other locations, to Guantanamo Bay, where he was seen in public for the first time in August 2016, 14 years after his capture.
The US now acknowledges that he was not as important in Al Qaeda as they originally thought.
The exact building used to detain and interrogate him in Udon Thani air base is still undisclosed.
Since the closure of Detention Site Green, Thai US relations have been strained by two military coups, but close military and intelligence co-operation has continued, regardless of the public diplomatic positions of each country.
The White House, meanwhile, issued a statement on 3 May urging the Senate to endorse Ms Haspel's nomination as soon as possible.
It quotes former director of CIA Clandestine Service John Bennet as saying she has taken on some of the "most demanding and least rewarding" assignments in her career, "because she felt it was her duty".
"That sense of patriotism", says the White House statement, "is precisely what Americans deserve in a CIA director."