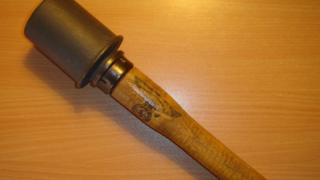 A Chinese university has decided to liven up its annual sports day by hosting a grenade-tossing event, it's reported.
According to the China Youth Daily newspaper, the North University of China in the city of Taiyuan, northern Shanxi province, has decided to introduce a "500-gram grenade toss" to its track and field event in May.
One teacher, Li Jiangxi, told the paper that the school had noted the earlier reluctance of students to take part in annual javelin and discus contests.
However, after the school decided to replace these contests with the grenade toss, Ms Li said that there had been a surge of interest.
"Students rushed to sign up," she said. "Some came late and didn't qualify; they seemed really disappointed."
The paper says that the idea originally came from a student called Wu Jianhang, who had written to the school headmaster, suggesting the new activity.
"He told reporters that he liked throwing items; however, when he signed up for the sports event last year, he found that javelin and discus did not suit him," China Youth Daily says.
According to the Global Times daily, students will be throwing weighted replicas of a Type 23 projectile, a wood-handled grenade based on the distinctive German World War Two Stielhandgranate, or stick grenade. It was later adapted by the Chinese military.
The university says that the event, which they are hoping to continue in future years, is not a publicity stunt, but rather a way to commemorate the school's history.
When it was founded in 1941, the North University of China was originally named the Taihang Industrial School, and was a base for the People's Liberation Army to develop weaponry and train personnel.
Reporting by Kerry Allen
Next story: Kyrgyz mayor dons fake beard to tour city in disguise
Use #NewsfromElsewhere to stay up-to-date with our reports via Twitter.