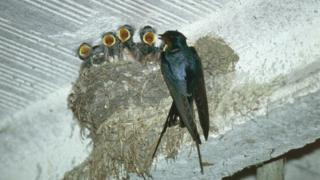 Farmers in eastern China have suspended the demolition of an old house because of a family of resident swallows, it's reported.
According to the People's Daily newspaper, an old rural house was scheduled to be demolished by 5 June in the town of Zhuyuan, eastern Zhejiang province, because its location was deemed to be high risk for geological disasters.
However, while engineers were working in the house, they heard tweeting, and found four swallow nests, and a family of hungry baby birds.
"Four young swallows were chirping for food, with their heads peeking out from one of the nests," Xu Zheng, the person in charge of the demolition, told the Xinhua News Agency. He added that the team had also found seven swallow eggs.
Xinhua says that the demolition team reached out to the local Zhejiang Wild Bird Association, and were advised by conservationist Song Shihe not to move the birds.
Mr Song said that moving a swallow nest would leave the smell of humans on them, and could cause the parents to abandon the nestlings, reducing the birds' chance of survival.
No rescheduled date has been set for the demolition of the house, but People's Daily says it could take around a month, as swallow eggs take some 15 days to hatch, and newborns need approximately 10 days to forage and fly independently.
China has had its fair share of problems trying to move residents out of old buildings, and "nail houses" are common in fast-developing China.
However, this is the first known incident in the country whereby feathered residents have managed to prevent a house from being demolished.
Reporting by Kerry Allen
Next story: Chinese city gets 'smartphone zombie' walkway
Use #NewsfromElsewhere to stay up-to-date with our reports via Twitter.