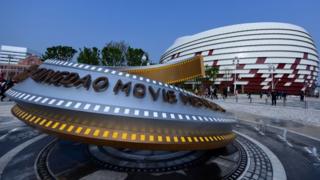 A sprawling film studio complex featuring a theme park, yacht club and hotel has opened in eastern China.
Chinese firm Dalian Wanda has invested $7.9bn (£5.7bn) into the Qingdao Movie Metropolis, which it hopes will attract foreign producers to the country.
The complex spans more than 400 acres and is said to include state-of-the-art production facilities.
Wanda CEO Wang Jianlin said it would "turn Qingdao into a global hub for film".
"We will boost the Chinese movie industry development," he said at the project's official opening on Saturday.
"This is the largest investment the global film and television industry has ever seen."
The site also features a shopping mall, restaurants and a cinema that is reportedly the biggest in Asia.
The Qingdao Movie Metropolis opened its first studios in 2016, and has already hosted some Hollywood productions including The Great Wall which starred Matt Damon.
It was first major Hollywood film aimed at a global audience to be set, filmed and produced in China.
The completion of the studios marks a further step in Wanda's efforts to woo Hollywood directors to work in the country.
In 2016, the firm said it would give foreign movie and TV firms huge discounts to film at the Qingdao studios.
It also bought Legendary Entertainment, the US studio behind blockbusters such as Jurassic World, the Batman Dark Knight trilogy and Godzilla.