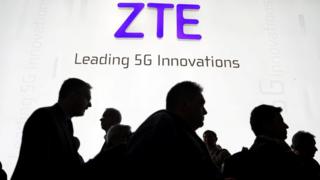 Shares in Chinese technology company ZTE plummeted 39% in Hong Kong as trading in the firm resumed after a two-month suspension.
In April, the US Commerce Department found ZTE had violated trade bans with North Korea and Iran.
A ban was placed on the firm that prevented it from buying parts from US suppliers.
The ban forced ZTE to suspend major operations, and trading in its shares in were halted on 17 April.
Last week, the US reached a deal with the Chinese technology giant that would remove the ban.
The deal will involve ZTE paying a $1bn penalty and hiring a US-approved compliance team. It will also have to replace its management board.
ZTE, which is based in Shenzhen, is China's second biggest telecoms maker. It depends on US-made components for the production of handsets.
In Shenzhen, the firm's shares were down 10% in early trade, which is the maximum allowed on the mainland.
The share falls in Shenzhen and Hong Kong were widely expected.
The decision to lift the US ban on ZTE has faced sharp criticism from US politicians, including from some Republicans.
US Senate leaders from both side of the political fence are expected to vote later this week on an amendment to a bill that could block the agreement between the Trump administration and ZTE.