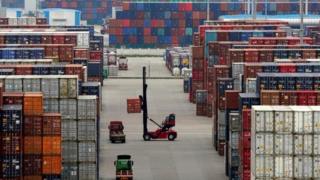 China will respond quickly to protect itself if the US hurts its interests with fresh trade tariffs, a foreign ministry spokesman has said.
The warning from Beijing comes as the US prepares to levy new tariffs on $50bn worth of Chinese imports.
On Thursday, US officials met at the White House to trim the original list of 1,300 categories to about 800.
Duties on foreign steel and aluminium, announced in March, have already gone into effect.
Those tariffs have already prompted Europe, Mexico, Canada and China to introduce or announce plans for counter-measures in retaliation.
The move threw the G7 meeting last weekend into disarray, with US President Donald Trump retracting his endorsement of the joint statement and lashing out at host Canada.
The US says its tariffs on Chinese goods come in response to what it categorises as theft of intellectual property.
The US wants China to stop practices that allegedly encourage transfer of intellectual property – design and product ideas – to Chinese companies, such as requirements that foreign firms share ownership with local partners to access the Chinese market.
In Beijing on Friday, Chinese foreign ministry spokesman Geng Shuang repeated earlier warnings that all trade talks between China and the US would be void if Washington imposed trade sanctions.
"Our position is still the same," he said.
"If the US takes unilateral and protectionist measures that harm Chinese interests, we will respond immediately by taking the necessary decisions to safeguard our legitimate rights and interests."
'Serious' impact
On Thursday, International Monetary Fund (IMF) director Christine Lagarde warned that the Trump administration's trade policies were likely to hurt the US economy and undermine the world's trade system.
She said a trade war would lead to "losers on both sides" and could have a "serious" impact.
While the IMF expects the trade dispute to have relatively minor economic consequences – slowing GDP by a fraction of a percentage point – Ms Lagarde said she was concerned about how the fight would affect sentiment.
"What is more critical and more difficult to factor in at the moment… is the actual impact on confidence," she said at a news conference in Washington.
The IMF said the White House, which has also threatened to withdraw from the North American Free Trade Agreement (Nafta), was responding to rising concerns about the side-effects of free trade.
"These measures, though, are likely to move the globe further away from an open, fair and rules-based trade system, with adverse effects for both the US economy and for trading partners," the IMF said.