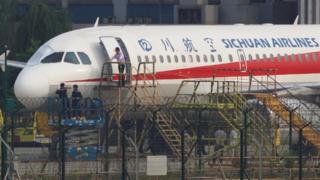 A Chinese passenger jet was forced into an emergency landing after its windscreen blew out at 32,000ft (9,753m), sucking the co-pilot halfway out of the plane.
Captain Liu Chuanjian said the Airbus A319 had been cruising mid-air when a deafening sound flooded the cockpit.
"There was no warning," he told the Chengdu Economic Daily.
"The windshield just cracked and made a loud bang. The next thing I knew, my co-pilot had been sucked halfway out."
Luckily, the co-pilot was wearing a seatbelt. He was dragged back into the chaos of the cockpit, where pressure and temperature had dropped and the equipment was failing.
"Everything in the cockpit was floating in the air," the captain said. "I couldn't hear the radio. The plane was shaking so hard I could not read the gauges."
How did it happen?
Sichuan Airlines 3U8633 was en route from Chongqing in south-west China to Lhasa in Tibet when the mishap struck.
Passengers were being served their breakfast when the plane plunged suddenly to 24,000ft.
"We didn't know what was going on and we panicked," one told the state-run China News Service. "The oxygen masks dropped… We experienced a few seconds of free-fall before it stabilised again."
The Civil Aviation Administration of China said the co-pilot had a sprained wrist and facial cuts after his ordeal. Another cabin crew member suffered a slight injury to the waist as the plane dropped.
The plane landed with all 119 passengers unharmed. Some 27 received medical check-ups at a hospital in Chengdu, where the plane made its emergency landing, according to the South China Morning Post. More than 50 took a later flight, arriving in Lhasa by the afternoon.
What are people saying?
Mr Liu has been widely praised on social media for bringing the plane down safely. On Tuesday, #ChinaHeroPilot was trending on the Chinese micro-blogging site Sina Weibo, with 160 million views and 17.8 million comments. The hashtag #SichuanAirlinesWindscreenGlassCracked drew 68 million views and 49,000 comments.
While some called for the captain to be given an award, others demanded better safety measures.
One using the name Lazy Pig Girl wrote: "How could this sort of thing happen?! Please investigate the reason and punish the people responsible! Take this as an example – to make sure nothing irreversible ever happens!"
Airbus and France's BEA accident investigation agency are sending teams to China to investigate the incident.
It comes two months after a woman died after being partially sucked out of the window of a US passenger plane, whose engine had exploded in mid-air.
Windscreen cracks are a reasonably common occurrence and can be caused by lightning bolts or a "bird strike" – when birds hit the plane at lower altitude. However, the loss of a whole screen is rare.