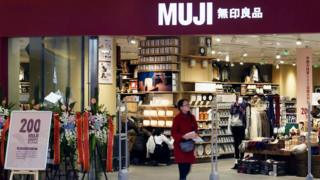 Japanese retail chain Muji has been fined in China for listing Taiwan as a country on some of its packaging.
The company has to pay 200,000 yuan (£23,400; $31,300) for listing Taiwan as a "country of origin".
Taiwan has been self-ruling since 1950 but Beijing regards it as a breakaway province of China.
China is becoming increasingly geographically sensitive, clamping down on any violation of its territorial claims.
Shanghai's administration for industry and commerce said Muji had last year imported clothes hangers in packaging marking Taiwan as the "country of origin".
The regulator added that Muji had since made corrections and changed the packaging.
The statement was issued last month but only covered by Chinese media on Wednesday.
Sensitive borders
It's the second time Muji has drawn China's ire over its use of maps and islands.
In January, it withdrew a catalogue over complaints it included maps that did not show Taiwan and a disputed group of islands.
The islands are called the Senkakus by Japan, which controls them, but the Diaoyu islands by China, which also claims them.
Earlier in May, US clothing company GAP apologised for selling T-shirts with a map of China which did not show the island of Taiwan and other disputed territories.
China has also been increasing its pressure on global airlines to list Taiwan as a part of China, threatening carriers with sanctions should they not fall in line.
In January, US airline Delta was forced to apologise for listing Taiwan and Tibet as countries on its website.
Many airlines have already given in to the pressure and changed their drop down menus, despite the US government condemning the Chinese demands as "Orwellian nonsense".
Hotel chain Marriott also briefly had its Chinese website suspended for listing Tibet, Taiwan, Hong Kong and Macau as separate countries in a customer questionnaire.