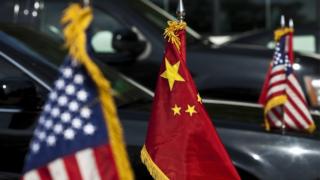 China has agreed to buy more US goods and services, a move Washington says will "substantially reduce" its $335bn annual trade deficit with Beijing.
"Both sides agreed on meaningful increases in US agriculture and energy exports," a US-China statement said.
"This will help support growth and employment in the United States."
Although not specifically stated by either side, the agreement should also dampen fears of a looming trade war between the two countries.
The countries also agreed to keep talking about measures whereby China would import more energy and agricultural commodities from the US.
But they made no mention of a $200bn deficit reduction target earlier floated by the White House.
"To meet the growing consumption needs of the Chinese people and the need for high-quality economic development, China will significantly increase purchases of United States goods and services," they said in a statement.
Neither did the two sides say it they would delay or drop their tariff threats on billions of dollars worth of each country's goods.
Both countries have imposed tariffs on each others' goods, though they're yet to be implemented.
US President Donald Trump has threatened to impose tariffs on up to $150bn on Chinese good.
He says the objective is to persuade China to end what he calls the theft of American intellectual property – such as technology and copyright.
The US has imposed tariffs on imports of steel and aluminium. Countries accounting for the bulk of those imports have been exempted, but China is not among them.
Beijing has threatened equal retaliation, including tariffs on a number of US imports – among them aircraft, soybeans, cars, pork, wine, fruit and nuts.
An article published by China state media agency Xinhua on Sunday declared the latest agreement as a "good example of win-win", adding it would help the US reduce its trade deficit and allow China to raise the quality of its imports.
The trade statement from the two countries concluded: "Both sides agreed to encourage two-way investment and to strive to create a fair, level playing field for competition."