By Sherie Ryder BBC UGC and Social News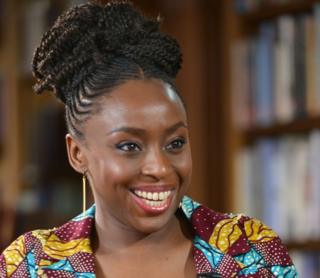 Nigerian novelist and storyteller Chimamanda Ngozi Adichie's appearance on US TV programme The Daily Show has seen thousands of people commenting on the role of men within feminism, and when to hold open a door for somebody or not.
Since talking to the show's host Trevor Noah on Thursday evening about why men are important for the feminist movement, Adichie has been trending on Twitter in Nigeria, with reaction to her remarks tweeted over 41,000 times at time of writing.
"Men have to be on board," said Adichie. "Because we share the world."
As the author of Why We Should All Be Feminists, published in 2014 and based on her TED talk in 2012 which has been viewed more than 1.7 million times, her comments should not be a surprise.
However, many people have responded to Adichie's comments on etiquette between genders.
Adichie explained she was happy for people to hold the door for her but hoped "they're not doing it for this idea of chivalry," as it could imply weakness on the woman's part. However, Nigerian student Tade Derhbi suggested: "Hold the door for everyone. It's plain courtesy".
One fan of Adiche's work, Chabala Kapoya, also disagreed with the author about doors being opened for her, saying she is not weak but it was "really nice and cute when someone does it".
Nigerian lawyer Rotimi Ibitoye said Adichie was going through a "Kanye phase" by "rebelling against the status quo," and pointed out that even animals have gender roles: "A female lion hunts for food and the male protects the pride".
You might also like:
Onye Nku applauded Adichie for saying chivalry was sexist, and describes her as "an icon."
Meanwhile, Nigerian blogger Ivie summarised what was discussed in the interview, but said the media would distort Adichie's points.