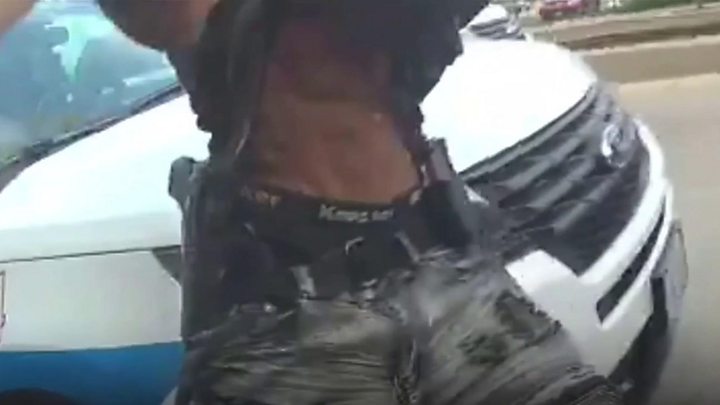 Chicago police have released bodycam footage, which appears to show a man who was fatally shot by officers reaching for his gun beforehand.
Harith Augustus was shot multiple times as he tried to run away on Chicago's South Side on Saturday.
Within hours, protesters had taken to the streets amid rumours he was unarmed, clashing with police.
The decision to release the video so soon was taken to avoid further violence, police said.
According to CBS, Chicago Police Superintendent Eddie Johnson told reporters: "The community needs some answers and they need them now. We can't have another night like last night."
The video, which has no sound, shows officers approaching Augustus on the street. At one point, as the 37-year-old backs away, his t-shirt flies up, revealing a gun in a holster.
He then tries to run away, at which point he appears to be reaching for his waistband. It is unclear if he was actually reaching for the gun.
However, the next moment Augustus – who had no recent criminal record – falls to the ground.
"I mean, it is what it is," Supt Johnson said. "You know, we are not trying to hide anything. We are not trying to fluff anything. The video speaks for itself. I don't need to narrate that video for you. When you see it, you come to your own conclusions about what happened."
Augustus' death was the third police shooting in just two weeks, and is the latest in a string of police killings of black men, some unarmed, which have caused outrage and led to protests in cities across the US.
Saturday night's clashes with police saw protesters shouting "murderers", throwing objects and jumping on police cars.
Officers armed with batons traded punches with the protesters, local media reports said.
Three officers sustained minor injuries and there were four arrests.
Saturday's demonstration was dispersed at about 22:30 local time (03:30 GMT). On Sunday, protesters returned to march through the streets.