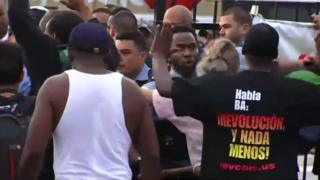 Police in Chicago have clashed with protesters after an officer fatally shot a black man who was suspected of carrying a gun.
A crowd of about 150 people shouted "murderers", threw objects and jumped on police cars during the confrontation in Chicago's South Side area.
Officers armed with batons traded punches with the protesters, local media reports said.
Three officers sustained minor injuries and there were four arrests.
A string of police killings of black men, some unarmed, has caused outrage and led to protests in cities across the US.
Police said the demonstrators in Chicago on Saturday were dispersed at about 22:30 local time (03:30 GMT).
The shot man's identity has not yet been released but he is thought to have been aged in his 30s, local media reported.
A police statement said officers on patrol in the South Shore district at about 17:30 local time saw the man "exhibiting the characteristics of an armed person".
"An armed confrontation ensued resulting in an officer discharging his weapon and fatally striking the offender," the statement said, adding that police recovered a gun and two ammunition magazines at the scene.
Chicago police patrol chief Fred Waller told US media that officers saw a bulge in the victim's trousers that they thought was a gun.
When they approached the man, he "started flailing and swinging away, trying to make an escape" and then "reached for the gun", Mr Waller said.