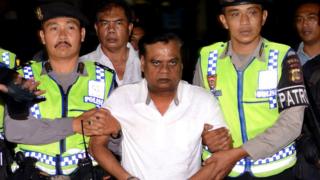 One of India's most notorious gangsters, Chhota Rajan, has been convicted of ordering the 2011 killing of a crime reporter in Mumbai.
Jyotirmoy Dey was shot dead by four men on motorcycles who were acting on the orders of Rajan, the court found.
Journalist Jigna Vora and another accused were acquitted of any role in the murder for lack of evidence.
Rajan, who has been in custody since 2015 after he was extradited from Indonesia, is awaiting sentencing.
He was convicted by the court in Mumbai along with eight of his aides. One suspect is still being sought by police, while another died in 2015.
Although 155 witnesses testified on behalf of the prosecution, there were no eye witnesses to the murder.
Mr Dey, 56, wrote under the byline J Dey and was one of Mumbai's top crime journalists. He had published several stories on the city's underworld and its gangsters, including Rajan.
After Mr Dey's death, journalists in Mumbai held protest marches, seeking greater protection from the government.
The initial investigation was carried out by the Mumbai police but the case was handed over to federal detectives after Rajan's arrest.
Chhota Rajan (or "Little Rajan"), whose real name is Rajendra Sadashiv Nikalje, is accused of several murders, extortion and drug trafficking.
The 58-year-old grew up in Mumbai and reportedly became involved in petty crime as a youth before rising to lead one of the city's crime syndicates.