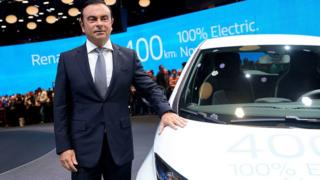 Carlos Ghosn, who is in custody in Japan, has resigned from French carmaker Renault, according to reports.
The French finance minister, Bruno Le Maire, told Bloomberg Television that "Carlos Ghosn just resigned last night".
Mr Ghosn has remained at the helm of Renault while being held in Japan since 19 November over allegations of financial misconduct at Nissan,
He held top jobs at both carmakers because of an alliance between them.
Renault, in which the French government owns a 15% stake, is scheduled to hold a board meeting later on Thursday.
The 64-year-old, who was the architect of the Renault-Nissan alliance, faces three charges in Japan of financial misconduct including understating his income and aggravated breach of trust.
Mitsubishi joined the alliance three years ago. While Nissan and Mitsubishi sacked him as chairman after his arrest, Renault had not done so.
Mr Ghosn, who denies any wrongdoing, could remain in custody for months after his application for bail earlier this week was denied.
According to reports, the Renault board is said to be considering replacing him with two individuals. The chairman is expected to be Jean-Dominique Senard, who runs Michelin, and Thierry Bollore, the current deputy, is expected to be appointed as chief executive.
According to Bloomberg, Mr Le Maire wants the alliance between the carmakers, which has been strained by the arrest of Mr Ghosn, to survive.
"I am sure the alliance will stay," Bloomberg quoted him as saying.