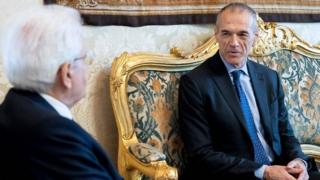 Italian President Sergio Mattarella has asked an ex-IMF economist to form a government as the country faces fresh political turmoil.
Carlo Cottarelli became known as "Mr Scissors" for his cuts to public spending in Italy.
His appointment came after efforts by Italy's two populist parties to form a coalition government collapsed.
But the move is a temporary measure and the PM-in-waiting says he will hold new elections by early next year.
How did we get here?
Italy, the EU's fourth-biggest economy, has been without a government since elections in March because no political group can form a majority.
Two of the big winners from the vote – Five Star and the League – attempted to join forces but abandoned efforts after the president vetoed their choice of finance minister.
Mr Mattarella said he could not appoint the Eurosceptic Paolo Savona to the post, citing concern from investors at home and abroad.
The rare move by the president sparked fury from both parties, who say they will reject Mr Cottarelli's nomination in parliament.
How do the populists see it?
After the president blocked Mr Savona's appointment, Five Star leader Luigi Di Maio called on parliament to impeach the president.
"Why don't we just say that in this country it's pointless that we vote, as the ratings agencies, financial lobbies decide the governments?" he asked in a video on Facebook.
The League's chief Matteo Salvini also criticised the president's decision, calling for mass protests and accusing Brussels and Germany of meddling.
Although the president's role is largely ceremonial, he enjoys powers such as appointing heads of government and the ability to dissolve parliament that have proven key with Italy seeing frequent political instability and numerous changes of government.
So what comes next?
After meeting the president, Mr Cottarelli said he would present a programme to parliament. including a budget, to take Italy into new elections "at the beginning of 2019".
If he was unable to pass a programme, which appears likely at this stage, "the government would resign immediately… until elections are held after the month of August", he added.
The BBC's James Reynolds in Rome says early elections are exactly what the two populist parties want, giving them a chance to rally support behind their claim that the Italian and the wider European establishments are getting in the way of the will of the people.
A source from Five Star told Reuters the party could campaign with the League in a fresh vote.