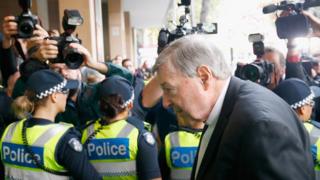 Cardinal George Pell will stand trial on at least one sexual assault charge, an Australian court has ruled.
Cardinal Pell, the Vatican treasurer, is Australia's most senior Catholic and one of the most powerful officials in the Vatican.
He has denied all charges against him.
In June last year, police in the state of Victoria charged the 76-year-old cleric with historical sexual offence allegations made by "multiple complainants".
Following a month-long hearing in Melbourne, magistrate Belinda Wallington ruled there is enough evidence for his case to proceed to trial on at least one charge.
Cardinal Pell was given a large police guard as he entered the Melbourne Magistrates' Court on Tuesday, watched by dozens of media representatives and members of the public.
Cardinal Pell has rejected the accusations, saying last year: "I am innocent of these charges, they are false. The whole idea of sexual abuse is abhorrent to me."
His lawyer previously said that he would plead not guilty to all charges.
He is currently on a leave of absence from the Vatican to fight the case against him.