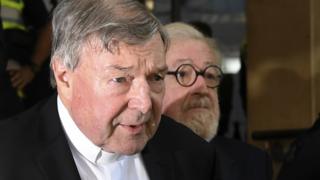 Cardinal George Pell is expected to face two trials on sexual assault charges, an Australian court has heard.
The Vatican treasurer 76, has pleaded not guilty to all charges, and has strenuously denied any wrongdoing.
On Tuesday, a magistrate ordered him to stand trial. The allegations relate to the 1970s and 1990s, a court heard.
Cardinal Pell appeared at the County Court of Victoria on Wednesday, where prosecution and defence teams asked for the case to be split across two trials.
If a judge agrees, separate juries would hear allegations against Cardinal Pell about his time as a priest in Ballarat in the 1970s, and charges relating to when he was archbishop of Melbourne in the 1990s.
Much of the evidence given at a previous hearing was not open to the public, and remains confidential.
Cardinal Pell is Australia's most senior Catholic and one of the most powerful officials in the Vatican.
Speedy process urged
On Wednesday, Judge Susan Pullen said a trial date was expected to be set during an administrative hearing on 16 May.
The cardinal's lawyer, Robert Richter QC, argued for matters to proceed quickly because "my client is 76 years old [and] everyone needs to get on with their lives".
Last June, Cardinal Pell was charged in the state of Victoria with allegations involving "multiple complainants".
Following a month-long preliminary hearing, a magistrate ruled that there was enough evidence for some charges to proceed to a jury.
However, half of the original charges were struck out on the basis of insufficient evidence and doubt over the reliability of testimony.
Cardinal Pell has strongly denied all accusations, saying last year: "I am innocent of these charges, they are false. The whole idea of sexual abuse is abhorrent to me."
The cleric has taken a leave of absence from the Vatican to fight the charges in his home country.