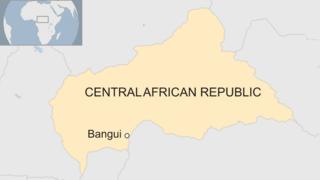 At least 15 people, including a priest, have been killed in an attack on a church in the Central African Republic (CAR).
Gunmen armed with grenades targeted the Notre-Dame de Fatima church in the capital Bangui during mass on Tuesday.
The incident took place near the predominantly Muslim PK5 neighbourhood, where 28 people were killed during clashes last month.
The CAR has faced several years of ethnic and religious conflict.
In 2013, Muslim rebels from the Seleka umbrella group seized power in the majority-Christian country. A band of mostly Christian militias, called the anti-balaka, rose up to counter the rebels.
Local sources said that the death toll of Tuesday's attack was at least 15, while French international radio station RFI quoted the Red Cross in the CAR as saying that at least 16 people had been killed and 99 injured.
Angry crowds carried the body of the slain priest towards the presidential palace.
According to a spokesperson for the UN peacekeeping mission in the CAR, the violence began after a suspected member of a rebel group from the PK5 neighbourhood was arrested. Heavy exchanges of gunfire between the army and rebels then followed.
More than a dozen people, including a priest, died in an armed attack at the same church in May 2014.
The area has seen renewed violence in recent weeks. On 10 April, 28 people died after UN peacekeepers and local security forces launched an operation to clear PK5 of armed groups, leading to deadly clashes.
Demonstrators at the time blamed the UN for the deaths and laid the bodies of 17 of those killed in front of the organisation's headquarters in Bangui.
But the UN described the protest as "propaganda" and said the dead were armed criminals who had targeted UN and government forces.