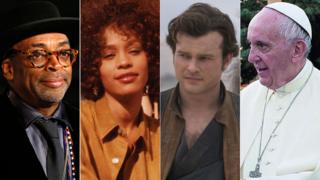 From the here and now to a galaxy far, far away, there's something for everyone at the 2018 Cannes Film Festival.
Here are 10 films sure to make waves for at this year's event, which starts on Tuesday and runs until 19 May.
Cannes 2018 rings in the changes
Everybody Knows
Secrets come home to roost in this year's festival opener, directed by the Iranian film-maker Asghar Farhadi.
Penelope Cruz, recently seen as Donatella Versace in American Crime Story, plays a Spaniard living in Buenos Aires who returns to her hometown outside Madrid with her Argentine husband and children.
What was meant to be a brief visit is upset by unexpected events that change all their lives.
Cruz's actor husband Javier Bardem and Argentinian actor Ricardo Darin also star in the film, which has yet to be given a UK release date.
BlacKkKlansman
Cannes has been kind to Spike Lee in the past, giving him awards for his 1986 debut She's Gotta Have It and his 1991 interracial romance Jungle Fever.
That didn't stop him revealing at an event last year he had felt "robbed" when Do the Right Thing failed to win the Palme d'Or in 1989.
He's up for that prize again this year with BlacKkKlansman, which tells the true story of an African American police detective in Colorado Springs who infiltrates the local chapter of the Ku Klux Klan.
Produced by Get Out director Jordan Peele, the film stars Adam Driver, Topher Grace and John David Washington – son of Denzel – in the leading role.
Under the Silver Lake
US filmmaker David Robert Mitchell made a big impression at Cannes four years ago with It Follows, a creepy low-budget horror about a teenage girl relentlessly pursued by a shape-shifting stalker.
His follow-up feature stars Andrew Garfield as an aimless Los Angeleno who turns detective when his neighbour goes missing.
A psychedelic mystery ensues as Garfield's Sam becomes obsessed with urban myths, secret codes and subliminal signs.
Mitchell said he was "super excited" to have his movie in competition, while Topher Grace – also in BlacKkKlansman – expressed his feelings in visual form.
Cold War
In a line-up short of British offerings, this Polish-French-UK co-production from UK-based Polish filmmaker Pawel Pawlikowski is the closest thing Britain has to a Palme d'Or contender.
Backed by Film4, Cold War (Zimna Wojna) is a love story set in Europe in the 1950s between two people from very different backgrounds.
Central to its storyline is Mazowsze, a popular Polish folk music and dance group set up in 1948.
Cold War is Pawlikowski's first feature since his religious drama Ida, which won the best foreign film Bafta in 2015.
The Man Who Killed Don Quixote
This year's festival will end with the world premiere of Terry Gilliam's Don Quixote film – or at least that's the plan.
One of the film's former producers is trying to halt the screening, claiming it can't go ahead without his permission.
A previous attempt to make the film collapsed in 2000, a calamity charted in the 2002 documentary Lost in La Mancha.
But Gilliam pressed on and finally managed to complete the film, in which Jonathan Pryce and Adam Driver play contemporary versions of Cervantes' Don Quixote and Sancho Panza characters.
Solo: A Star Wars Story
The heaviest hitter at this year's festival is the latest blockbuster from the Star Wars universe, a prequel charting the early days of space pirate Han Solo.
Alden Ehrenreich plays Solo in Ron Howard's film, which also stars Donald Glover, from TV's Atlanta, as the young Lando Calrissian.
British cast members Emilia Clarke, Thandie Newton and Phoebe Waller-Bridge are all expected to attend the film's Cannes premiere.
Fans won't have to wait too long to see this new Star Wars story, which opens in the UK on 24 May.
The House That Jack Built
The last time Lars von Trier brought a film to Cannes, he was branded a "persona non grata" after making ill-advised remarks about Adolf Hitler and Nazism.
Now, though, he seems to have been forgiven enough for his new film to be screened – albeit out of competition.
Set in America over a 12-year period, The House That Jack Built stars Matt Dillon as a highly intelligent serial killer who sees his murders as works of art.
Uma Thurman, Bruno Ganz and Sofie Grabol also appear in what is sure to be one of the festival's most talked-about (and grisliest) titles.
Fahrenheit 451
Michael B Jordan and Michael Shannon star in the latest film version of the late Ray Bradbury's classic dystopian novel.
Jordan, recently seen in Black Panther, is Guy Montag, a futuristic fireman who starts to question why his job demands that he burns all books.
"The story is so spot-on about what's going on," Jordan told Vogue last year. "As we were making it, the things we were showing were eerily mirroring the world."
Director Ramin Bahrani previously worked with Shannon on 99 Homes, a 2014 film about rapacious real estate brokers.
Whitney
The tragic life and rollercoaster career of Whitney Houston has already inspired one British documentary maker to tell her story.
Unlike Nick Broomfield's Whitney: Can I Be Me, though, Kevin Macdonald's film has the backing of the late singer's family.
The official endorsement gave Macdonald access to previously unreleased recordings, unseen home movie footage and rare live performances.
The Scottish director is no stranger to the genre, having previous made films about Sir Mick Jagger and Bob Marley.
Pope Francis: A Man of His Word
German director Wim Wenders was given unprecedented access to the Pope over the two years it took to produce what is described as more of "a personal journey" than a biographical documentary.
The result is a film whose exploration of the pontiff's ideas and message guarantees it a five-star rave in the Vatican's in-house newspaper.
Wenders, best known for Paris, Texas and Wings of Desire, will be in Cannes to plug the film, which will open in the UK later this year.
His Holiness, alas, is expected to have other plans.
Follow us on Facebook, on Twitter @BBCNewsEnts, or on Instagram at bbcnewsents. If you have a story suggestion email entertainment.news@bbc.co.uk.