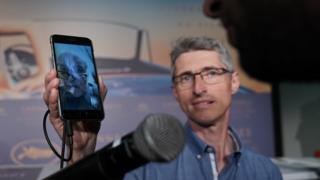 Maverick film-maker Jean-Luc Godard has lived up to his reputation by attending a Cannes news conference via FaceTime.
The 87-year-old fielded questions about his latest film from his home in Switzerland, having opted not to travel to the south of France.
Reporters took turns to stand in front of a mobile phone held by his producer and cinematographer, Fabrice Aragno.
Others recorded his utterances on their own mobile phones, adding another layer of surrealism to the proceedings.
More from Cannes:
Godard's latest work, The Image Book, is a dense collage of archive clips, news footage and vintage film excerpts.
Scenes from Jaws, Vertigo and many other films are juxtaposed with often shocking documentary footage of violence, war and public executions.
The French-Swiss director provides a gnomic commentary in his familiar raspy drawl, at one point declaring that "the people in charge are bloody morons".
Critics have been largely baffled by the film, one of 21 in contention for this year's Palme d'Or award.
Speaking softly and occasionally puffing on a cigar, Godard genially took questions on Saturday on a range of topics.
They included the conflict in Syria, the Catalan independence movement and whether he had used footage from one of Michael Bay's films in his latest screen essay.
The key to a good film, he told one reporter, was "to do away with two images… to find one really good one".
"But when you talk about the key, you can't forget the lock as well," he continued.
Cinema revolutionary
Godard, one of the leading members of the French New Wave, revolutionised world cinema in the 1960s with such films as Breathless, Alphaville and Pierrot Le Fou.
An image from that film showing actors Jean-Paul Belmondo and Anna Karina features on the poster for this year's festival.
This year marks the ninth time the director has had a film shown at Cannes, an event whose 1968 edition he successfully sought to have curtailed.
The 71st Cannes Film Festival continues until 19 May.
Follow us on Facebook, on Twitter @BBCNewsEnts, or on Instagram at bbcnewsents. If you have a story suggestion email entertainment.news@bbc.co.uk.