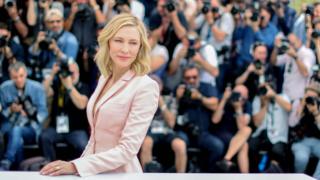 Cate Blanchett has called for gender parity at the Cannes Film Festival, but accepts it "won't happen overnight".
The actress and chair of this year's jury said she would "absolutely" like to see more female directors competing for the festival's Palme d'Or award.
Yet she said coming to Cannes was "almost a gladiatorial sport" and it was important that film-makers were "ready" for the exposure.
Of the 21 films in competition this year, only three have female directors.
Blanchett, however, made the point that "a few years ago [in 2015], there were only two".
At a press conference before the festival's official opening, she also stressed that a director's gender would have no bearing on how she and her fellow jurors assessed their films.
"It's a level playing field," she told journalists. "We're all going into this process with a genuinely open mind."
France's Eva Husson, Lebanon's Nadine Labaki and Italy's Alice Rohrwacher are the three female directors in contention for the festival's highest accolade.
"But they're not there because of their gender," Blanchett said. "They're there because of the quality of their work."
The continued gender imbalance in the competition line-up has been a major talking point in the run-up to this year's festival.
"Would I like to see more women in competition? Absolutely," Blanchett told journalists. "Do I expect and hope that's going to happen in the future? I hope so."
A ban on Netflix films in competition, which came about after the streaming giant refused to show them in French cinemas, has meant the issues of streaming and distribution have also been hot topics.
The issue prompted Blanchett's fellow juror Ava DuVernay to make a plea for "flexibility of thought".
The US director of Selma and A Wrinkle in Time was nominated for an Oscar for her 2016 documentary 13th, a Netflix production.
"It's so important that we are inclusive of the different ways in which we participate in film," said the director.
"Whether that's in a theatre or not, it's still film. I don't think the way it's presented to an audience has a bearing on that."
This year's festival takes place in the wake of Time's Up and #MeToo movements, which were prompted in part by the sexual harassment scandal that engulfed the entertainment industry last year.
Saturday will see a symbolic march down the red carpet, with 100 women due to unite in solidarity with victims of sexual abuse.
Festival attendees have also been issued with flyers informing them harassment is "punishable by law" and that "good behaviour is required".
According to jury member Denis Villeneuve, though, it will take "a long time" for #MeToo and other such initiatives to realise their goals.
"I am always depressed by how we judge time over a three-month period," said the Canadian director of Blade Runner 2049.
Blanchett agreed: "For quality, profound, lasting change to occur, it needs to take place through specific actions, not generalisations."
'Joie de vivre'
The two-time Oscar winner also gave short shrift to a journalist who suggested the festival's traditions of glitz and glamour were at odds with the current mood.
"Being attractive doesn't preclude being intelligent," she stated firmly. "This is by its very nature a glamorous, fantastic, spectacular festival."
The event's "joie de vivre" and "great, good humour", she went on, "were things to be enjoyed" – provided they were done "in an equal, fair and equitable way".
Twilight's Kristen Stewart, Burundian songwriter Khadja Nin and French actress Lea Seydoux are among the other members of this year's jury.
Stewart said she hoped to be "fundamentally moved" by the films in competition and that the eventual recipient of the Palme d'Or would "still stand up in 10 years' time".
The 71st Cannes Film Festival has its official opening ceremony later on Tuesday and runs until 19 May.
Follow us on Facebook, on Twitter @BBCNewsEnts, or on Instagram at bbcnewsents. If you have a story suggestion email entertainment.news@bbc.co.uk.