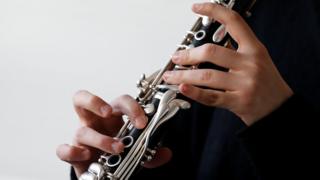 A young Canadian clarinettist has been awarded C$350,000 (£200,000) in damages after his girlfriend sabotaged his music career by impersonating him.
In 2014, Eric Abramovitz's then-girlfriend sent emails in his name to turn down a valuable scholarship.
She did so apparently to keep him from leaving her. Mr Abramovitz later realised the deception and sued her.
A judge ruled that Jennifer Lee's actions were a "despicable interference in Mr Abramovitz's career".
The full scholarship offer, from Colburn Conservatory of Music in Los Angeles, was worth about $50,000 (£38,000) a year.
Mr Abramovitz – who had studied the clarinet since he was seven years old and won many prestigious awards – had been desperate to win a place on the course as it was led by one of the world's greatest clarinet masters, Yehuda Gilad.
After flying to Los Angeles for a live audition in front of Mr Gilad in 2014, Mr Abramovitz, then 20, was sent an email to tell him he had been successful – but he never received it.
It was intercepted by Ms Lee, who was living with him in Montreal, where they were both music students.
How did she do it?
Ms Lee had access to his laptop and he had left his email account unlocked because he trusted her.
She found the email and replied in Mr Abramovitz's name, saying simply that he could not accept as he "would be elsewhere". She deleted the evidence.
She then created an email account in Mr Gilad's name, giladyehuda09@gmail.com, to falsely tell Mr Abramovitz he had not been successful.
She invented an alternative offer – for the University of Southern California, where Mr Gilad also taught – but with a fraction of the funding that he had hoped for.
Mr Abramovitz said Ms Lee knew he would have to refuse the offer as it would have been too costly.
"I was numb when I read the email. I had to read it a few more times," Mr Abramovitz, now 24, told BuzzFeed News. "When I found out I didn't get it, it was really hard to deal with. I went through some really dark, sad, angry days."
He stayed in Montreal to finish his music degree, but the relationship soon fell apart.
How he found out
He only started to become suspicious when he met Mr Gilad, some years later, at another audition at the University of Southern California, according to the Montreal Gazette.
Mr Gilad asked why he was coming back to him if he had already rejected his offer of one-on-one tuition.
The young clarinettist did not know what to make of it at first, but when one of Mr Gilad's students asked him why he once turned down a full scholarship, he decided to trawl back through his old emails.
Mr Abramovitz found the one he sent, replying to the rejection. He sent it to Mr Gilad, who told him he did not recognise the words or the email address; it was not from him.
Eventually, Mr Abramovitz started to wonder if his ex-girlfriend was behind the emails. He said he knew she must have been when he found he could access the fake Gmail account by using one of her favourite passwords.
'An unthinkable, immoral act'
His damages case – filed in Ms Lee's home state of Ontario – cited loss of reputation, loss of educational opportunity and a delay in entering his chosen profession.
Quoted in court documents, Mr Gilad said: "To sum up, I am very frustrated that a highly talented musician like Eric was the victim of such an unthinkable, immoral act that delayed his progress and advancement as an up-and-coming young musician and delayed his embarking on a most promising career."
The Ontario judge awarded the $300,000 Mr Abramovitz requested, plus an additional $50,000 to express the "court's revulsion at what Ms Lee has done" and for the "personal loss suffered by Mr Abramovitz by having a closely held personal dream snatched from him by a person he trusted".
Ms Lee did not attend court or offer any defence, and she has not responded to media requests for comment.
Mr Abramovitz has recently accepted an offer to join the Toronto Symphony Orchestra.