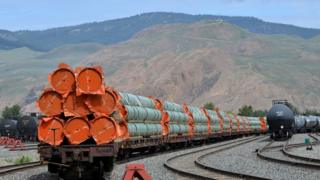 Canada would "not back down" in the face of new US tariffs on steel and aluminium, according to the country's foreign minister.
Chrystia Freeland spoke as officials unveiled a C$2bn (£1.5bn) package to support the country's steel and aluminium industries.
Retaliatory tariffs on C$16.6bn worth of US products are due to come into effect on July.
Ms Freeland said US tariffs left Canada "no choice" but to respond.
Canada's tariffs target US steel and aluminium products, as well as consumer goods such as whiskey, ketchup and orange juice.
The list of products is intended to match "dollar for dollar" the US tariffs, which came into effect on 1 June.
"Our approach is we will not escalate but equally we will not back down," she said.
Canada's steel and aluminium industries together employed more than 33,500 workers, contributing some $9bn to the country's economy last year.
About 84% of Canada's primary aluminium production is exported to the US.
The Trump administration announced its plans to levy new taxes on foreign steel and aluminium this spring, saying those industries were vital to US national security.
The measures have provoked a widespread international backlash.
In addition to Mexico, the European Union and Mexico are among those that have announced retaliatory measures.
The tariffs have also triggered complaints against the US to the World Trade Organisation (WTO).