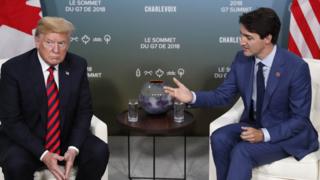 Prime Minister Justin Trudeau has vowed Canada won't be "pushed around" by the US on trade. But just how much leverage does Canada – with over 70% of its trade heading south of the border – have against the US?
US President Donald Trump has warned that Mr Trudeau's tougher talk on trade will cost Canada "a lot of money".
It's the latest jab in a multi-day tirade from the American president against Mr Trudeau and the trade relationship between the two nations.
On Tuesday, Canada's Foreign Minister Chrystia Freeland shrugged off the comments, saying the country "expected moments of drama" when it came to matters of trade with the Trump administration.
"Canada is prepared for any eventuality" and are ready with "a plan B, C, D and F and maybe to the end of the alphabet" if relations continue to sour, she said.
What does a trade dispute with the US mean for Canada?
Former Canadian prime minister Pierre Elliott Trudeau famously described the relationship between Canada and the US as that of a mouse to an elephant.
Canada will "no matter how friendly and even-tempered the beast, be affected by every twitch and grunt," he said.
Simply put, trade with the US matters more to Canada than the other way around.
Toronto-based trade lawyer Jesse Goldman says "it's kind of evident that we don't have nearly as much leverage as the Americans do".
"The proportionate impact of a bilateral trade war between Canada and the US is much greater on Canada than it would be on the US."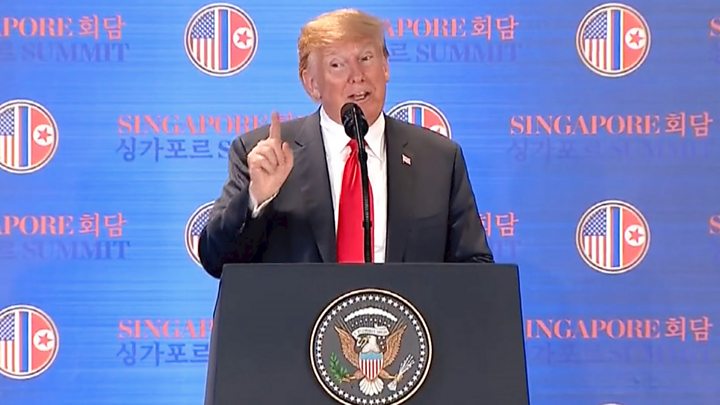 Canadian officials like to point out that Canada is the number one customer for 35 US states, and that no other country buys more US-made goods.
But trade consultant Adam Taylor notes that for the vast majority of those states, less than 10% of their economic growth is driven by trade with Canada.
Canadian provinces are overwhelmingly more dependent on their US trading partners.
"When the US tariffs hit us, it's like a huge wave crashing into our shores, verses the little ripple that our tariffs have as an impact on their economy," Mr Taylor says.
How has Canada retaliated so far?
Canada does still have arrows in its quiver.
Following the Trump team's 25% tax on steel and 10% tax on aluminium from the EU, Mexico and Canada, Canada hit back with its own tariffs.
Canadian officials announced C$16.6bn ($12.7bn; £9.5bn) in retaliatory measures on goods ranging from iron wire to maple syrup and beer kegs.
Mr Taylor says: "It's almost like bullets ricocheting off a tank."
It won't have a huge impact on the US economy, he says, but "you've got to find the ways you can have your shots land".
Specific tariff targets include gherkins from Wisconsin – House Speaker Paul Ryan's state – Kentucky bourbon from US Senate Majority Leader Mitch McConnell's state, and orange juice from Florida, a state that voted for Mr Trump in 2016.
The hope is that lawmakers from targeted states will in turn pressure the US administration to resolve the issue.
"The tariffs are partly economic but they're really intended to send a strong political message," says Mr Goldman.
Canada has also launched complaints at the World Trade Organisation, though the resolution process can drag on for years.
Long-term, the country has sought to diversify its trade by signing the Comprehensive Economic and Trade Agreement with the EU and joining the the Trans Pacific-Partnership trade deal.
What are the current trade issues between both countries?
There are a handful.
Canada, the US and Mexico are in the middle of renegotiating the 1994 North American free Trade Agreement (Nafta).
Sticking points remain, 10 months into the talks.
Dairy is one that raises the ire of the US president, though it accounts for less than 1% of the Canada-US economic relationship.
US negotiators have proposed the dismantling of Canada's 50-year-old dairy supply management system entirely over the course of a decade.
The long-running – and undeniably protectionist – scheme offers Canadian farmers a guaranteed price for their milk, and puts high tariffs on dairy goods from abroad.
Supply management has the support of all political parties in Canada, where dairy farmers have a powerful voice.
On Tuesday, Mr Trudeau met to reassure anxious dairy farmers about threats to the scheme.
The US president is also insisting on including a Nafta sunset clause – an expiry date that would force partners to regularly renew the accord at regular intervals – into the new deal.
That's a deal breaker for Canada, which says it would create too much uncertainty for business.
Mr Trump is also keen on striking separate bilateral deals – something Canada has made clear it doesn't want.
There are also tariffs on Canadian softwood lumber imports – part of a long-running dispute over the commodity between the two nations.
And in June, the US slapped the steel and aluminium levies on key allies including Canada.
So what's next?
The issue of possible automobile tariffs are looming on the horizon.
In May, the US commerce department initiated a Section 232 investigation into auto imports, which will determine whether imports of autos and auto parts into the US threaten national security.
Mr Goldman calls the potential impact of those tariffs "devastating".
"It will have a profoundly negative effect on the Canadian economy."
That's where diplomacy comes in.
Canadian officials will be pushing hard for a Canadian exemption on any potential auto and auto parts tariffs.
They will also continue to work with allies south of the border who are also worried about a spiralling trade dispute.
Mr Goldman says industry is well aware a trade dispute will cause economic pain on both sides of the border, though the US economy can withstand shocks for longer than other nations
"Both countries will suffer significantly," he said.
Industry and business organisations like the US Chamber of Commerce and the Auto Alliance have been vocal about their concerns over Nafta talks and auto tariffs.
Meanwhile, Trudeau government officials and Trump administration officials are still working to try and move Nafta talks forward.
And on 1 July, Canadian retaliatory tariffs against the metals levies kick in.