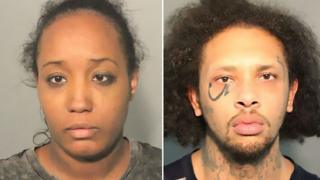 Ten children rescued from a California home had allegedly been waterboarded, shot at with crossbows and strangled by their parents, authorities say.
In a court filing, prosecutors recommended that bail for the mother be raised to $495,000 (£365,000) because she remains a danger to her children.
Police arrested Ina Rogers and Jonathan Allen in March after responding to reports of a missing child.
The pair now face numerous charges of child abuse dating back several years.
The motion, filed on Wednesday, says the children were "punched, strangled, bitten, shot with weapons such as crossbows and [pellet] guns, hit with weapons such as sticks and bats, subjected to 'waterboarding' and [had] scalding water poured on them".
"Waterboarding" is a way of simulating drowning, by pouring liquid over a gagged person's mouth.
Prosecutors also said the children had suffered broken limbs and "varying forms of scars".
'Sadistic torture'
By James Cook, BBC Los Angeles correspondent
Officers say they found the outwardly smart two-storey house in Fairfield, north of San Francisco, filled with rotting food and faeces – and the children, aged from six months to 12 years, huddled together on the floor. The children spoke with speech impediments.
After weeks of interviews, prosecutors now allege that the siblings were subjected to sadistic torture.
The father is accused of abuse while the mother is alleged to have dissuaded the children from reporting injuries including broken arms.
The couple – who deny the charges – say they home schooled their children although the Associated Press reports that their property was not registered as a school, as required by law.
Ms Rogers faces nine counts of felony child abuse.
Mr Allen has been charged with seven counts of torture and nine counts of felony child abuse, and is being held on a $5.2m (£3.8m) bail.
In an interview from prison, published on the video-sharing website YouTube, Mr Allen describes himself as a peaceful man and the "Indiana Jones of spirituality".
"I love my children with all my heart," he said. "No one is perfect. But I am not an animal. I am not a torturer and I am not a monster."
Ms Rogers previously described her husband as an "amazing person", when she was talking to reporters.
"My husband has a lot of tattoos. He looks like a scary individual, and that's why people are so quick to judge him," she said.
She was taken into custody after Wednesday's hearing.
In a separate case earlier this year, police in California found 13 siblings, some of whom were shackled, severely malnourished at their home. Their parents have been charged with torture and abuse.