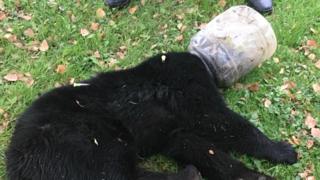 A black bear cub spotted with a plastic jar on its head has been freed by rangers in the US state of Maryland who spent three days searching for it.
The 100-pound (45kg) male, nicknamed "Buckethead", was tranquilised and relieved of its discomfort in front of a crowd at a festival in McHenry.
It was then reunited with its mother and another cub in the woods.
Living up to 30 years in the wild and can weighing up to 400kg, black bears can be found in much of North America.
Photos posted on Facebook by Maryland's Wildlife & Heritage Service showed the bear before and after the plastic was removed.
You may also like: