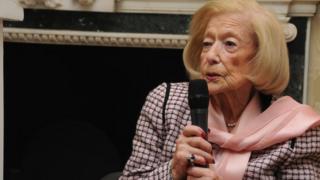 A holocaust survivor who lived through four concentration camps and nursed Anne Frank has died aged 95.
Gena Turgel became known as the Bride of Belsen after marrying one of the soldiers who liberated her camp.
Mrs Turgel, who was born in Krakow, Poland, in 1923, lost most of her family after the 1939 German invasion.
The Holocaust Educational Trust said she "tirelessly" shared her story to ensure the "horrors of the Holocaust are never forgotten".
Mrs Turgel, the youngest of nine children, was 16 when the Nazis invaded Poland on 1 September 1939, which triggered World War Two.
She was moved into Krakow's ghetto with her mother and four siblings.
One brother was shot by the SS, a second fled and was never seen again.
She and her surviving family were eventually sent to Plaszow labour camp on the edge of Krakow before being made to walk to Auschwitz-Birkenau in the winter of 1944.
In January 1945, Mrs Turgel and her mother spent four weeks on a "death march" to another concentration camp, Buchenwald, before being taken by cattle train to Bergen-Belsen.
Mrs Turgel worked in the hospital there which is where she nursed Anne Frank, whose diaries subsequently found international fame, as the 15-year-old was dying from typhus.
In an interview with the BBC, Mrs Turgel said: "I washed her face, gave her water to drink and I can still see that face, her hair and how she looked."
On 15 April 1945, the British army liberated Bergen-Belsen.
Among the liberators was Norman Turgel, who married Mrs Turgel six months after finding her.
Her wedding dress, which was made from a British Army parachute, is now on display at London's Imperial War Museum.
In 1987, Mrs Turgel published her story in a book titled I light a candle.
'Shining light'
Karen Pollock, chief executive of the Holocaust Educational Trust, said: "The Gena Turgel we knew was the most beautiful, elegant and poised lady.
"Her strength, determination and resilience were unwavering, her powerful and wise words an inspiration."
Ms Pollock said Mrs Turgel "dedicated her life" to sharing her story which was "difficult to hear and difficult for her to tell".
She said: "A shining light has gone out today and will never be replaced."