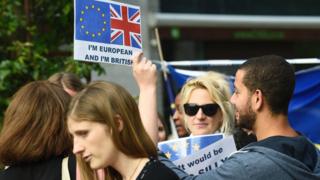 The EU Commission President, Jean-Claude Juncker, has urged Belgium to grant citizenship to British EU staff worried about their post-Brexit status.
About 1,100 UK citizens work for the EU in Brussels and Luxembourg.
Mr Juncker called Belgium a kind host and asked its prime minister, Charles Michel, to "show the same generosity when it comes to granting Belgian citizenship" to British EU staff.
When the UK leaves the EU next March Britons will lose their EU citizenship.
The UK and EU have already pledged to protect citizens' rights after Brexit, but that does not mean granting nationality.
Article 49 of the EU staff rules states that "an official may be required to resign" if he or she loses their EU citizenship and is no longer a national of an EU member state.
Many British EU staff are longstanding residents with families.
An internal EU Commission document quoted by Politico news last month said Article 49 would not mean British staff losing their EU jobs, apart from cases involving "conflicts of interest or international obligations".
Responding to Mr Juncker's plea during a European Parliament debate, Mr Michel said Belgium's citizenship law in the context of Brexit was "contradictory", but he did not specify the difficulties.
"The government is examining the judicial possibilities on this question, which affects a number of people who have been living in our country for a long time," he said.
European Commission spokesman Margaritis Schinas said later that Mr Juncker's remarks were meant as a reminder for the Belgian leader. "We live up to the promise that our colleagues of British nationality should be given maximum guarantees to stay, not only with their employment but also if they want to stay as Belgian citizens. But this is in entirely in the hands of the Belgian government, not ours," he said.
Read more on this topic:
What does EU citizenship mean?
EU citizenship is described in Article 20 of the Treaty on the Functioning of the European Union and includes the rights to:
Travel and live anywhere in the EU
Vote and stand as a candidate in European and local elections in another EU country
Get diplomatic protection and consular help from any other EU country in another part of the world.
Michael Ashbrook of Solidarity, Independence, Democracy (SID), a trade union representing EU staff, told the BBC that "all the British staff are trying for EU citizenship". "They are very worried", he said, referring to the impact of Brexit on their jobs.
"There has been talk of dismissing British 'contract agents' on Brexit day, rather than letting them complete their fixed-term contracts," he said.
Resolving the status of British staff, to keep them in their jobs, would take the Commission "just a few minutes", he said.
Brexit sets a legal precedent for the EU and raises a host of new legal challenges, because no state has left the 28-nation bloc before.
To qualify for Belgian citizenship, an applicant must have lived in Belgium for at least five years legally and passed a language test.
Luxembourg requires at least seven years' residence and competence in Luxembourgish, a language with only about 390,000 native speakers.