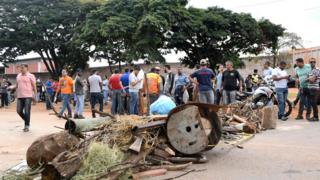 Protests over high diesel prices continue in Brazil despite a deal reached with haulage companies to suspend strike action.
Shortages of basic goods have been reported across the country. Airports are running out of fuel and public transport has been reduced.
The government had promised to scrap fuel taxes and maintain a 10% reduction in pump prices for a month.
Diesel prices in Brazil have almost doubled since 2016.
How widespread are the protests?
One of the major trucking groups behind the protests was not a signatory to the deal, which called for protests to be suspended for 15 days to allow for negotiations, Reuters news agency reported.
On Friday there were still blockades in all but two of the country's 26 states, federal highway police said, with 74 alone in the southern state of Rio Grande do Sul, a major route for trade with Argentina.
Routes between cities such as Sao Paulo, Rio de Janeiro and Belo Horizonte were also still blocked and there was very little activity at Santos, Latin America's biggest port, according to port operator Codesp.
What effect have they had?
Petrol stations have been left unable to offer fuel and supermarkets were short of fruit and vegetables, Reuters said. Rubbish collection had been reduced in many areas.
Some companies told employees to stay at home on Friday.
French supermarket chain Carrefour limited the number of items each consumer could buy.
Fears that the protest might continue for days has prompted consumers to stock up on staples such as bread, rice and mineral water.
Exports have also been affected, as the main highways remain blocked.
Sugar stocks have been reduced to "near zero" in the main ports, according to industry group Unica. Brazil is the world's largest sugar producer.
All car manufacturing in Brazil has been halted, car makers association Anfavea said.
Fibria, the world's largest producer of eucalyptus pulp, said the protests were affecting production.
Why have diesel prices risen?
The state-owned oil company, Petrobras, adopted a pro-market policy of tracking international oil prices after President Michel Temer took office following the impeachment of Dilma Rousseff in 2016.
That has seen prices almost double.
Shares in Petrobras rose 2% on Friday on news of the deal after dropping by 19% on Thursday.