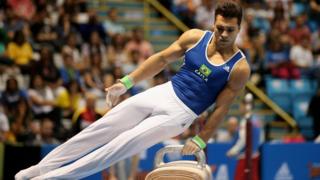 Dozens of Brazilian gymnasts have alleged that the former coach of Brazil's national team, Fernando de Carvalho Lopes, sexually abused them.
They told TV Globo's Fantástico programme that they had experienced sexual abuse, ranging from touching to being told to shower in front of him.
He was removed from the national team just before the 2016 Olympics after the parents of a gymnast raised concerns.
Mr Lopes says that he has "a clear conscience".
Interviewed by TV Globo, he said that he had never molested anyone.
But on Monday, the club near São Paulo at which he had been training youngsters for two decades sacked Mr Lopes.
The club, MESC of São Bernardo do Campo, said Mr Lopes had already been moved to an "administrative position" two years ago when the first allegations against him emerged.
Only one gymnast agreed to speak to TV Globo on camera without having his face obscured. Petrix Barbosa, 26, said that: "I was woken up more than once by his hand down my pants."
Mr Barbosa, a Pan-American champion who now lives in the US, said that the coach asked gymnasts to show him their genitals.
"He always asked us how we were developing, he said that he needed to be across our growth so he could adapt our training accordingly," the gymnast said.
The programme spoke to 42 gymnasts who said that they had experienced some form of abuse at the hands of Mr Lopes.
They said that the alleged abuse happened before and after training sessions and during training camps.
Mr Lopes told the programme that those accusing him had yet to "present proof in court".
The allegations against him are being investigated by the prosecutor's office.
The scandal comes just months after the former doctor of the US gymnastics team, Larry Nassar, was jailed after more than 265 women accused him of abuse.