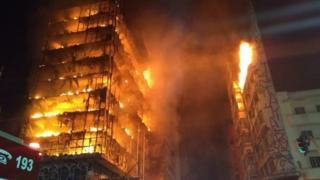 A 26-storey building has collapsed after being engulfed in flames in Brazil's largest city, São Paulo, killing at least one person.
More than 150 firefighters are battling the blaze which is thought to have been caused by a gas explosion.
The high-rise had been occupied by squatters, and firefighters fear more people may have been trapped inside.
Witnesses said flames spread quickly from one of the lower floors and set an adjacent building on fire.
'Like a tsunami'
Some 50 families had moved into the building in the Largo do Paissandu area of the city after the federal police force, which had been using it, vacated it some years ago.
"It felt like a tsunami when the building came down," a 58-year-old woman who lived on the fourth floor told Folha newspaper. "I could not take anything with me."
Deise Silva, 31, told Folha that she was asleep inside one of the rooms with her five children when she was woken by screaming.
"When people told me there was a fire, I woke up the children and ran," she said.
A nearby hotel has been evacuated. The hotel receptionist told Folha newspaper that he was alerted to the blaze by shouting.
"At first I thought it was a fight but then I heard people shouting 'get out, get out!'" he said.
The fire started at 01:20 local time (04:20 GMT), with the flames spreading quickly. The high-rise collapsed 90 minutes later.
Officials say the second building is currently not at risk of collapse.
Firefighters have cordoned off a large area around the blaze.
Last year, dozens of homes were destroyed by a fire in a favela in the city.