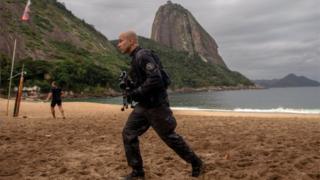 Rescue teams in Brazil have retrieved the bodies of six people from coastal rocks at the foot of Rio de Janeiro's famous Sugar Loaf mountain.
Police believe the bodies are of criminals who took part in shootouts that brought panic to residents on Friday and Saturday.
The incidents took place in the Urca neighbourhood, considered one of the safest and most exclusive in Rio.
The Sugar Loaf cable car services had to be suspended for two hours.
The unprecedented move left more than 100 tourists trapped at the top of the mountain for two hours, while police exchanged fire with suspected drug traffickers on nearby mountains.
Rio residents have become used to daily incidents of violence, including shootouts on its more than 800 shantytowns or favelas.
But this is the first such incident in the Urca area of Rio, an upmarket peninsula where two prestigious military academies and an army barracks are based.
Police say the gangs involved in the shootouts have been fighting for weeks for control of drug trafficking selling points on the neighbouring Babilônia favela.
A man was arrested in the operation, several weapons were seized and a policeman was injured by shrapnel from a hand grenade.
Violence has been on the rise across Brazil for the past two or three years.
The country is going through one of the most enduring economic and political crises in its history.
The state of Rio de Janeiro has been particularly affected by the crisis, after a sharp drop in crucial oil revenues and a major corruption scandal.
Earlier this year, President Michel Temer deployed the armed forces in Rio to try to curb violence by criminal gangs.
Critics say the measure has had little impact and that violence is still out of control in Rio and other major Brazilian cities.