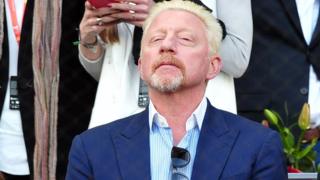 Confusion surrounds a claim by former tennis champion Boris Becker that he holds diplomatic status on behalf of the Central African Republic (CAR).
He asserted last week in London that his appointment as a diplomat by the CAR gave him protection from legal action in a bankruptcy case.
The CAR embassy in Belgium confirmed it had issued him a diplomatic passport.
However, a top official in the CAR foreign ministry told a French news agency the passport was fake.
Cherubin Moroubama told AFP the serial number on the document matched one of a batch of "new passports that were stolen in 2014".
He added that the passport, dated 19 March 2018, does not bear the signature or the stamp of the foreign minister.
Lawyers for the 50-year-old three-time Wimbledon champion say he was appointed a sport and culture attache to the EU by the CAR in April.
In that month he tweeted a picture of himself shaking hands with CAR President Faustin-Archange Touadera in Brussels.
Mr Becker was declared bankrupt in 2017 over money owed to private bank Arbuthnot Latham and is now being pursued for "further assets".
In his defence lodged with the High Court in London last week, Mr Becker's lawyers maintained he could not be made subject to any legal process unless President Touadera specifically lifted his immunity at the request of the British government.
His legal team said: "This means he cannot be subject to legal process in the courts of any country for so long as he remains a recognised diplomatic agent."
But on Tuesday, Mr Moroubama was quoted by AFP as saying that "Becker's job profile does not exist" in the CAR's records.
He added that the document in question describes Becker's diplomatic role as "financial charge de mission… nothing to do with sporting questions".
Mr Becker's lawyers have not yet responded.
The tennis star became the first German to win Wimbledon in 1985, at the age of 17.
He won it again in 1986 and 1989 among the 64 ATP Tour titles he claimed during a 15-year career.
After his retirement as a player he became a commentator with the BBC.