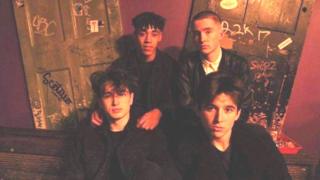 The son of U2's Bono has hit back in a row over the name of his band.
Eli Hewson, 18, the third child of the Irish rock legend, is frontman with a Dublin-based group called Inhaler – a name shared with a four-piece group of rockers from Hertford.
The English Inhaler say they were using the moniker before Bono's son's band and have demanded an apology.
But the Irish rockers accused their namesakes of trying to "generate publicity" by bringing up the issue.
The Dublin band said they had researched the name carefully and had used it first.
In a statement, the Irish group said: "It is not uncommon for bands in different locations to have matching names.
"We have never been in dispute with anyone over our name. There are other bands called Inhaler on the planet, but we seem to be the one the Hertfordshire band have targeted for some reason."
The Irish band say they have been together since late 2012, but finally settled on using the name Inhaler in February 2015 after careful research.
"Based on what the Hertfordshire band say online, their first gig was at Saracens Head Ware on March 24th 2016," the statement added.
The group sign off by saying they are prepared to let their namesakes "have their limelight" but plan on letting their "music do the talking".
According to the English Inhaler's frontman Luca Centro, 17, the issue came to a head when an Irish newspaper used a picture of him, instead of Hewson, in an article about the Irish band.
Centro said his "psych noise punk rock" band were not taking a stand for publicity, but for "independent music".