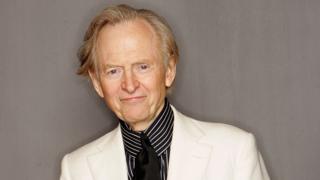 Tom Wolfe, author of The Right Stuff and The Bonfire of the Vanities, has died aged 88, his agent has confirmed.
The Right Stuff, about the first American astronauts, was adapted into a film in 1983 with Sam Shepard, Dennis Quaid and Ed Harris.
The Bonfire of the Vanities, published in 1987, was a satire of 1980s excesses in New York and was also made into a film starring Tom Hanks in 1990.
He also wrote the cult classic Electric Kool-Aid Acid Test, published in 1968.
Wolfe died of an unspecified infection in a New York City hospital, his agent, Lynn Nesbit, told Reuters.
He was a pioneer of New Journalism, which developed in the 1960s and 1970s, a literary style known written from a subjective perspective as opposed to more traditional objective journalism.
His writing was often littered with exclamation points, italics and improbable words.
Wolfe's book The New Journalism, published in 1973, was a collection of work by the likes of Truman Capote, Hunter S. Thompson and Norman Mailer.
The editor of the New York Times described Wolfe's passing as the "passing of an era".
Irish Times journalist noted his impact on modern journalism.
Wolfe won the Bad Sex in Fiction prize in 2004 for I Am Charlotte Simmons and was also shortlisted in 2012 for Back to Blood.
He was also known for coining phrases such as "radical chic" – a derogatory term for pretentious liberals – and "the me decade", which described the self-indulgence of the 1970s.
"The right stuff" described the intangible characteristics of the first US astronauts and test pilots.
He once told the Wall Street Journal: "I think every living moment of a human being's life, unless the person is starving or in immediate danger of death in some other way, is controlled by a concern for status."
---
Follow us on Facebook, on Twitter @BBCNewsEnts, or on Instagram at bbcnewsents. If you have a story suggestion email entertainment.news@bbc.co.uk.