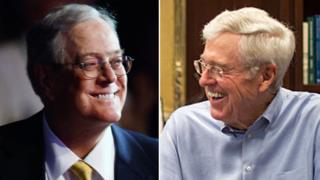 Business has made the Koch brothers two of America's richest men, but it is how they have used their wealth – to push for small government and a free economy – that has made them famous and controversial.
For a pair often portrayed as reclusive, Charles and younger brother David have in recent years stepped out of the shadows.
This week they opened a major rift with US President Donald Trump by launching a campaign against his trade tariffs.
Meanwhile, it has been announced that David is stepping down from their company Koch Industries amid deteriorating health.
But what do we know about the two – and what does their influence mean in the age of Trump?
Stalin and boxing: The early years
The pair that would become known as the Koch brothers are in fact two of four – Frederick is the eldest, born in 1933, followed by Charles (1935) and twins Bill and David (1940).
Their father Fred used his training in chemical engineering to develop an improved method of turning oil into petrol.
Facing accusations of patent violations, Koch looked abroad, including what was then Stalin-era Russia, where he set up oil refineries.
The experience left a deep impression on Koch, who would in the 1950s join the fiercely anti-communist group the John Birch Society, whose suspicions about infiltration of the US state by communist agents extended as far as Republican President Dwight D Eisenhower.
As well as influencing them politically, Koch is credited as installing a strong work ethic in his children.
Charles has often quoted his father as saying "I don't want to have any kids that are country club bums", adding that from as young as six he was expected to help out with the chores.
While Bill and David share a birthday, David was always closer to Charles.
"I was the baby, the family nerd," Bill once told the New York Times.
An early clip shows Bill and David boxing as children. A bigger bust-up awaited.
Kochs vs Kochs
Charles, David and Bill followed their father in earning engineering degrees from the prestigious Massachusetts Institute of Technology.
Charles was groomed as Koch's successor, becoming president of the family business after his father died in the 1960s and renaming it Koch Industries in his honour. David and Bill both took roles in the company.
With Charles in charge, the firm began its rapid expansion from a regional player to what is now the second largest private company in the US.
But along the way he lost the support of his brother Bill, who in 1980, apparently feeling sidelined and concerned over the company's direction joined forces with Frederick to try to oust Charles.
Instead the company's board sided with Charles, who fired Bill.
The row did not end there, and in 1983 Charles and David bought out their brothers' share of the firm.
More lawsuits followed, with Bill and Frederick alleging they had been cheated. It would take almost two decades for a court to rule that while some key facts had been omitted during the negotiations it did not affect the sale price.
More long reads for your weekend:
The dispute was reportedly so bitter that the brothers ignored each other at their mother's funeral in 1990. "Blood and money is a very explosive issue," Bill once mused.
Bill founded another energy firm, Oxbow. He also won the elite America's Cup yachting event in 1992, as well as becoming a prominent wine collector and scourge of fine wine counterfeiters.
Frederick, something of an Koch outlier, is a major art collector and patron.
Political players
Koch Industries now spans a dizzying range of interests. The company is involved in energy, chemicals, agriculture, finance and electronics, producing everything from toilet paper to steak.
If they had stuck to industry their names would not be known beyond the business pages – David once called the firm the "biggest company you've never heard of" – but instead they are widely known for their involvement in US politics.
$100bn Revenue in 2017

120,000 Their number of employees across 60 countries

2 Their ranking among private US companies, second only to Cargill

$52bn David and Charles' individual estimated wealth
Getty Images
The pair have long been interested in Libertarian ideas – David ran as the Libertarian Party's vice-presidential candidate in the 1980 race, and the brothers fund think-tanks that promote the philosophy.
During the Obama era, their political network grew to a formidable size, with the Kochs spending hundreds of millions of dollars supporting conservative causes and candidates.
Environmental group Greenpeace has accused the pair of funnelling huge sums to groups denying climate change. A Koch Industries spokesperson said the company had been misrepresented, and wanted "open, science-based dialogue about climate change".
The rich using their wealth for influence is nothing new but the scale of the brothers efforts and the perceived lack of transparency made them into left-wing hate figures.
They have frequently been accused of "astroturfing", where what appear to be grassroots movements are instead directed by powerful interests.
In 2014 Democrat Harry Reid said Republicans were "addicted to Koch". By one estimate they were subject to more than 50,000 attack adverts the following year.
To some extent their views put them at odds with both of America's main parties.
President Obama has called the brothers a "problem" – but also praised them for campaigning for judicial reform.
David once told ABC: "I'm basically a libertarian. I'm a conservative on economic matters, and I'm a social liberal," a contrast to the anti-abortion and anti-gay rights espoused by many Republicans.
Gus diZerega, a former friend of Charles Koch, told the New Yorker he believes the brothers have transferred their father's loathing of communism to a distrust of government in general.
"As state socialism failed… the target for many within these organizations shifted to any kind of regulation at all," he wrote in an essay.
Thorn in Trump's side?
In its purest form Libertarianism opposes government intervention in any form, be it on border controls or gay marriage, so it is perhaps no surprise that the Kochs would challenge President Trump on tariffs.
During the 2016 election, Charles Koch likened the choice between Donald Trump and Hillary Clinton to "cancer or heart attack", focusing their finances on the senate and congressional races.
Since his election many of Mr Trump's policies chime with the brothers' long battle for small government, such as his tax reforms and repeal of environmental regulations.
Tim Phillips, the president of one of the Koch network's groups Americans for Prosperity, acknowledged "positive steps" from the Trump administration, but added "tariffs will undercut that progress and needlessly hamstring our full economic potential".
In a March opinion piece in the Washington Post, Charles wrote: "Countries with the freest trade have tended to not only be the wealthiest but also the most tolerant."
He said his interests in steel meant he would gain from tariffs – but he opposed them anyway.
So with the midterm elections looming, and the Koch brothers reportedly prepared to spend up to $400 million, what comes next?
Political strategist Hank Sheinkopf told CNBC candidates may have to show where their loyalties lie.
"Who are they more afraid of? The Koch brothers and their millions of dollars tossed at them or Donald Trump? An unemployed politician doesn't know what to do with himself when he's out of politics," he said.
Charles himself shows little sign of slowing down, but when he does there is a new generation of Kochs such as his son Chase, who heads yet another Koch Industries offshoot – Koch Disruptive Technologies.
"All too often in our country today, the greater the innovation, the stronger the forces to crush it before it grows," he told a gathering of Koch network donors. Sound familiar?
---
What they say
Charles Koch: "Allowing people the freedom to pursue their own interests (within the limits of just conduct) is the best and only sustainable way to achieve societal progress. For individuals to develop and have a chance at happiness, they must be free to make their own choices and mistakes, rather than be forced to accept choices made for them by others."
David Koch: "It's something I grew up with – a fundamental point of view that big government was bad, and that the imposition of government controls on our lives and economic fortunes was not good."
What others say
Harry Reid, former Democrat Senate majority leader: "They are trying to buy America, and it's time that the American people spoke out against this terrible dishonesty of these two brothers who are about as un-American as anyone that I can imagine."
'"W.W.", who has worked for Koch-backed Libertarian institutions:"The most interesting thing about the Kochs is not that they have spent so much of their fortunes on politics, because they haven't. What's interesting is that they seem to have spent their money so much more efficiently and effectively than most rich people interested in politics manage to do."