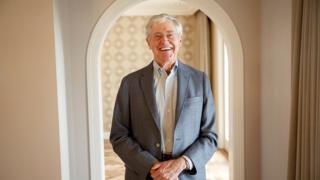 Powerful US billionaire brothers Charles and David Koch are funding a multi-million dollar campaign against President Donald Trump's trade tariffs.
Three political groups backed by the brothers say they will use advertising, lobbying and grassroots campaigns to push the benefits of free trade.
The duo run Koch Industries, one of the world's largest privately-owned firms.
The move comes just days after Mr Trump imposed tariffs on steel and aluminium imports from the EU, Canada and Mexico.
Charles and David Koch's company has interests ranging from pipelines to paper towels.
According to the Koch Industries website, "to millions of Americans, the words 'Koch brothers' and 'political activism' go hand-in-hand".
They have previously put money into groups denying climate change and attacking unions and workers' rights, but they have also pushed criminal justice reform and made large donations to the American Civil Liberties Union.
Last November, the brothers helped fund Meredith Corporation's deal to buy US magazine publisher Time Inc, which owns of some of the world's most famous magazine brands, sparking concerns that they would use their investment to wield editorial influence.
The three groups launching the campaign: Freedom Partners Chamber of Commerce, Americans for Prosperity and the LIBRE Initiative, are urging the president to lift the recent tariffs on aluminium and steel imports as well as the proposed tariffs on other imports from China.
Americans for Prosperity president Tim Phillips said the tariffs would "hamstring our full economic potential".
"There are better ways to negotiate trade deals than by punishing American consumers and businesses with higher costs," he added.
The campaign indicates the level of concern among business groups, typically Republican supporters, about the impact of the tariffs.
Leaders from the EU, Canada and Mexico have criticised the move and threatened retaliation, sparking fears of a trade war.
Donald Trump has said the steel tariffs will protect US steelmakers, which he says are vital to national security.