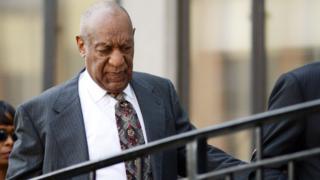 Bill Cosby and Roman Polanski have been expelled from the US Academy of Motion Picture Arts and Sciences.
The prestigious organisation – which runs the Oscars – made the announcement on Thursday.
TV star Cosby was convicted of sexual assault last month. Director Polanski admitted statutory rape of a 13-year-old in 1977.
Producer Harvey Weinstein was kicked out last year, following numerous allegations of sexual assault.
The academy said its board members made the latest decision after a vote on Tuesday.
Polanski won a best director Oscar for The Pianist in 2003.
In a statement it said the board "has voted to expel actor Bill Cosby and director Roman Polanski from its membership in accordance with the organization's Standards of Conduct".
"The Board continues to encourage ethical standards that require members to uphold the Academy's values of respect for human dignity," it added.
Only four people are known to have been expelled in its 91-year history.
The first was actor Carmine Caridi, who had his membership revoked in 2004 after he allegedly sent confidential film preview videos to a friend which ended up online.
In April, Cosby, 80, was found guilty of three counts of sexual assault, each of which carries a potential 10 years in prison.
He was on trial for drugging and assaulting ex-basketball player Andrea Constand in 2004.
It was the second time the actor had stood trial for the allegations, after an earlier jury failed to reach a verdict in 2017.
Polanski admitted unlawful sex with a minor in 1977 and served 42 days in prison, but later fled the US over concern that a plea bargain deal would be scrapped.