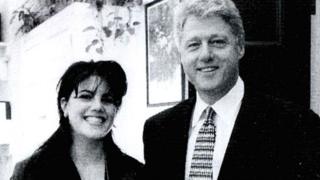 Bill Clinton says he would not respond any differently today to reports of his affair with former White House intern Monica Lewinsky than he did in 1998.
"If the facts were the same today, I wouldn't," the former US president told NBC's Today programme.
When asked if, in light on the #MeToo movement, he thought his handling of the scandal had been correct, he said: "I think I did the right thing."
Mr Clinton was impeached for lying to investigators over the relationship.
The House Republicans' move against Mr Clinton in 1998 made him only the second US president to have been impeached. However he was later acquitted in the Senate and remained in power until 2001.
Speaking to NBC on Monday, Mr Clinton said it was not necessary for him to resign following the revelations of an affair with Ms Lewinsky, who was 22 years old at the time.
He also said that while he has never apologised personally to her at the time, he had done so publicly: "I have apologised to the entire world."
Ms Lewinsky has maintained that it was a consensual relationship, but she called it a "gross abuse of power"".
"Any 'abuse' came in the aftermath, when I was made a scapegoat in order to protect his powerful position…," she told Vanity Fair in 2014.
News of the relationship dominated the US news agenda in the late 1990s after the then-president first denied the affair, before later admitting to "inappropriate intimate physical contact".
Mr Clinton's initial response to the media reports in 1998 – "I did not have sexual relations with that woman" – has gone down as one of US politics' most memorable quotes.