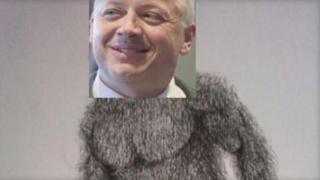 A hotly contested US congressional race has turned Sasquatch ugly after one candidate accused the other of being "a devotee of Bigfoot erotica".
The row began after the Democratic candidate in Virginia tweeted an image of the beast taken from the Instagram account of her Republican rival.
"This is not what we need on Capitol Hill," Democrat Leslie Cockburn wrote with the drawing of a naked Sasquatch.
Republican Denver Riggleman denies he was writing a book about Bigfoot sex.
The image taken from Mr Riggleman's Instagram account is a black-and-white drawing of Bigfoot, with a black "censored" bar to hide his penis.
"These images are very disturbing, I think everyone should just look at them to see who this candidate is," Ms Cockburn said in an interview.
In an interview on Monday, Mr Riggleman described the image from his social media account as "a 14-year practical joke between me and my military buddies".
He told the Conservative Review that the image was a prank from friends who were joking about a book he is currently writing: The Mating Habits of Bigfoot and Why Women Want Him.
The book, he says, will be "a sort of joke anthropological study on Bigfoot believers".
A second tweet from Ms Cockburn referred to the book, and superimposed Mr Riggleman's face on the cryptid's shoulders.
Mr Riggleman says he has found his rival's attacks "hilarious".
"I didn't know there was Bigfoot erotica, even with all my Bigfoot studies," he said.
"I thought this was such a joke that nobody would ever be dumb enough to think that this was real, but I guess her campaign did."
He warned tongue-in-cheek that Ms Cockburn could alienate the "pro-Bigfoot" vote.
Republicans have in turn been targeting Ms Cockburn, depicting a 1991 book the former investigative reporter wrote criticising the US-Israel alliance as anti-Semitic, which she denies.