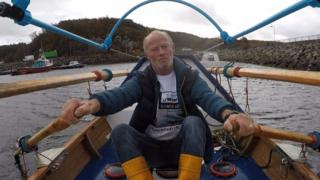 An amateur rower is preparing to make an attempt to cross the North Atlantic in a wooden boat he built himself.
Duncan Hutchison, from Lochinver in the Highlands, has spent his working life at sea, including most recently in the offshore oil industry.
He spent three years building the boat which he hopes to set out in from New York on, or around, 19 May.
Mr Hutchison expects he will take between 90 to 100 days to row it back to Lochinver.
His expedition will raise money for the charity Wateraid.
His boat is called Sleipner, named after an eight legged horse from Norse mythology that could glide across the sea.
Mr Hutchison told BBC Scotland the loneliness of being out at sea on his own would likely be the hardest part of the venture.
He added: "The physical side will be difficult too.
"I am doing this to prove that normal people can build a boat and row it across the Atlantic.
"That is the idea, to prove that normal people can do unusual things."